by Tanya Womack

Rev. Dr. Marshell Stenson, Jr. passed away on December 19, 2013. He was 77 years old. His life was filled with countless accomplishments. He was considered as one of the best and one of the most notable pastors in the country.
He was born and raised in Troup County, Georgia. He graduated from Troup County High School with honors. He attended Clark College where he earned a Bachelor of Arts degree. He later attended the Interdenominational Theological Seminary (ITC) where he was awarded both a Bachelor and a Master of Divinity degree. He received his Doctor of Divinity degree from Carver Bible College in Atlanta, Georgia.
Rev. Stenson devoted his life to spreading the gospel of Jesus Christ. He first served as Pastor of Mt. Vernon Baptist Church in Newman, Georgia. He was later called to serve as the Pastor of First Baptist Church in Macon, Georgia. It was during this time; He became a chief ombudsman for the Civil Rights Movement, hosting Dr. Martin Luther King, Jr. and other civil rights leaders as they marched through the Central Georgia area. Rev. Stenson also served as the first African American Chaplain of Grady Memorial Hospital.
In 1969, He was called to pastor St. Luke Baptist Church in Macon, Georgia. He continued as the shepherd of St. Luke for the past 44 years. During his tenure at St. Luke Baptist Church, Rev. Stenson guided the church in the burning of its first mortgage, enlarging the sanctuary and building a new fellowship hall and countless other accomplishments. He also served as the President of Bryant's Theological Seminary in Fitzgerald, Georgia from 1969 until 2004.
He was acknowledged for his service by several organizations, including a commendation for Outstanding Christian Service to the Sixth District of the General Missionary Baptist Convention of Georgia; the Charles Emerson Boddie Merit Award for excellence in Christian Education by the American Baptist Theological Seminary and the Marshell Stenson Hall, a 33-room dormitory in his honor on the campus of Bryant's Theological Seminary. Rev. Stenson was recently honored as the first annual MLK Jr., Drum Major for Justice. He was also honored for over 50 years of service to the ministry by the national Baptist Convention, Inc.
Rev. Stenson was preceded in death by his parents, Rev. Marshell and Matilda Stenson. He is survived by the love of his life, his wife of 54 years, Dr. Mary Banks Stenson and their 3 children: Marshell Stenson, Mary Scriven and Joel Stenson.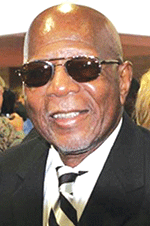 Hamp Swain
Hamp Swain, deacon, retired DJ and automobile consultant said, "I enjoyed his leadership, Rev. Stenson was a man of God and a visionary. He did so many great things for the community, the state and the nation. He will be missed."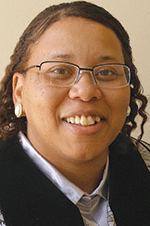 Pastor Lisa M. Watson
Pastor Lisa M. Watson of Evangelical Liberty Christian Church added,"I have known Rev. Stenson all of my life and he was a great pastor and he did a lot for the community and he will be missed. He was awarded the MLK Jr., Drum Major for Justice Award, a very prestigious award."
Rev. Dr. Henry C. Ficklin
Rev. Dr. Henry C. Ficklin said, "Dr. Stenson was a man of high moral conviction, courage and wisdom. He was a church leader as well as a leader in the struggle for equality. A dynamic preacher and role model. This is a great loss to our community."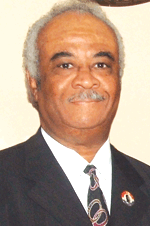 State Rep. Tyrone Brooks

State Rep. Tyrone Brooks and President of Georgia Association of Black Officials (GABEO) added, Rev. Stenson has been supportive of me and very supportive of the Civil Rights Movement. I am going to miss him."
Rev. Jessie Jackson
Rev. Jessie l. Jackson Sr., of Rainbow PUSH, concluded by saying, "Rev. Stenson was a person of great moral courage and vision. He will be greatly missed. I extend my personal sympathy to his wife, Mary, and to St. Luke Baptist Church. He worked courageously and effectively on behalf of Operation Breadbasket to secure a measure of economic justice for those left in the margins. Rev. Stenson also played an important role in my 1984 campaign for the U. S. President."
© Copyright 2014 by The Informer, Inc.
P.O. Box 564, Macon, • GA 31201 * Ofc:  478-745-7265 * Email: gainformer@yahoo.com