Twiggs County native, the Reverend Larry L. Marcus, is the Founder and Pastor of Greater Faith Baptist Church in Philadelphia, Pennsylvania and has authored the motivational book Practical Principles for Successful Living. Reverend Marcus hosted a book signing on March 22, 2012 at 7pm at the Carriage House in Macon to introduce his book to middle Georgia residents.
Reverend Marcus was first called into the ministry at the age of 16 and was licensed at the O'Marion Baptist Church in Dry Branch, Georgia under the tutelage of the late Reverend M.D. Dumas. After graduating from high school, Reverend Marcus relocated to Cleveland, Ohio where he served as Associate Minister at St. John Baptist Church, followed by service at Morning Star Baptist Church where he was catechized and ordained under the supervision of the late Reverend Dr. Solomon L. Cole. He is a graduate of the Philadelphia College of Bible in Langhorne, Pennsylvania and The Theological Seminary of the Reform Episcopal Church in Blue Bell, Pennsylvania.
Reverend Marcus has served as the General Secretary of Black Clergy of Philadelphia and Vicinity and is a former President and current member of the Baptist Pastors Ministers Conference of Philadelphia and Vicinity. He is also a member of the Eastern Keystone Baptist Association; the Pennsylvania Baptist Convention; and the National Baptist Convention, USA.
Greater Faith Baptist Church held its first worship service on November 6, 1995 at 2pm at New Bethlehem Baptist Church. On December 11, 1995, Greater Faith began holding Christian Enrichment classes at 9:30am and worship services at 11am at West Philadelphia Seventh Day Adventist Church, where Greater Faith conducted services for the next four and a half years. Between 1995 and 1997, Greater Faith acquired land, secured a loan, and by 1998, construction of a new church building began. Greater Faith Baptist Church held its first service in the new building on June 6, 1999.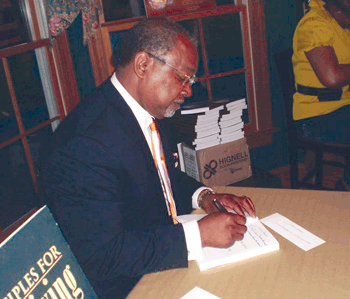 Thursday night's book signing was attended by approximately 75 individuals who listened intently as Reverend Marcus read excerpts from his book that included the principle of the power of positive thinking. Attendees were then invited to the table where Reverend Marcus personally autographed numerous books for those purchasing a copy.
Concise and easy to understand, Practical Principles for Successful Living is a book that is intended for use by the young and the old; the saved and the unsaved. Scripture-based principles with practical application techniques steer readers toward divine purpose and successful living.
"This is a special book, birthed in me by the Holy Spirit," said Reverend Marcus. "Before I wrote the book, I discovered that my dreams were stale without a plan. The book has principles that I gleaned from Scripture for practical living," he continued. "When you have a plan and objectives and put the Lord first, you will enjoy success."
Interested readers can visit the website at www.larrylmarcus.com to discover more about Greater Faith Baptist Church and to purchase a copy of Practical Principles for Successful Living. Reverend Marcus is available for book signings and workshops on applying the principles contained in his book. Simply visit the website and click on the link "Contact Us" in the left margin.