by James Simpson II
It's around 11 a.m. on a Monday morning in mid-July and the good old Georgia heat is kicking into high gear. If you've lived in Georgia long enough and experienced the blazing hot summer weather, then it's not surprising to you how overwhelming it can be at times. Heck, it's actually pretty typical. The norm I should say. Georgia residents know what's coming every summer. There's no avoiding the inevitable. You just have to take it's best punches and throw a couple right back, hoping you don't get completely knocked out in the process because eventually the sweltering weather will knock you out - if you're not careful.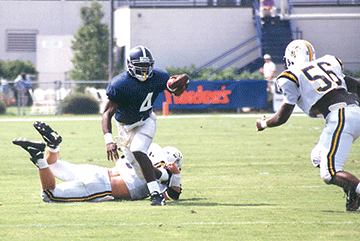 If there's one word I would associate with Summer and Heat, then it's definitely Football...and that stems from football being played in the South. Southern Football it's called to be exact. It's widely known that no region in America is more obsessed, passionate, and crazed about football than the South, whether it's high school, college, or pro (I can hear SEC football fans telling me now that college football is the No.1 priority for Southern fans) and there's no getting around that fact. The summertime is when teams are participating in mini-camps and then training camps as they prepare for the upcoming season.
Well, that brings me to a day of training camp in Macon, Georgia where I'm on the football practice field watching the Southwest High School Patriots go through their early routines, as the 90 degree heat swarms me - just a little bit. But I'll survive the heatwave. I'm used to this by now. The players come out in just helmets and no pads. Gets me thinking that a light practice is about to take place. They stretch in separate groups and get loose. On one side of the field players toss short passes to one another. On another side the kickers and punters practice perfecting the art of kicking, while the returners catch balls as they come down through the air or even have to adjust by securing the football off the bounce. The team then spreads out and stretches as a group while shouting out "1, 2, 3, 4"...and so on until they reach ten and then move onto the next stretch. After that, the coaches instruct the players to break into ten lines for short sprints and once that's complete the team does a drill where they jog in place called "chopping it out" and the players fall flat on the ground, then get back up and do it again repeatedly. Man that looks tiring. I get exhausted by just watching. After what seemed like a 20-minute warmup, the team quickly breaks into different groups where the coaches work with position players. In one area, the defensive linemen work on technique and positioning. Another area the wide receivers and tight ends work on breaking and cutting through their route-running to get open. Straight across the field, the quarterback practices simple handoffs to the running back as the offensive linemen pretend block for him. A drill right in front of me involves two coaches fine-tuning the defensive backs back-peddling skills. One coach soon gets frustrated with a player's practice habit and yells "Proper prevention prevents piss-poor performance." I thought to myself laughing that makes perfect sense.
After a brief water break, it was scrimmage time. You know the "light practice" I suggested it might be in the beginning? Yep...however the practice certainly wasn't light. There was no hitting going on (at least no real physical hitting and knocking around) but the intensity was pretty high from the players, especially from all the coaches who were constantly preaching basics, getting them to pay attention to small details, and helping players see the big picture of the game. During the scrimmage, the offensive skill players (quarterback, running back, wide receiver, tight end) are in yellow jerseys as the defense is in the traditional 4-3-4 set. The defense wins some battles and the offense wins some battles, with the scrimmage later ending with the quarterback (in shotgun formation) throwing a short pass off a quick slant route through the middle of the field to a receiver for a touchdown. The offense is pumped. The players jump around fired up. The team gathers around in a huddle and practice ends. As the coaches and players clear the field and attempt to get out of the heat in record time, I go looking for him but don't see him. I then realize that I got so caught up in watching practice and trying to protect myself from the sizzling sun that I didn't even realize that the head coach wasn't present. I ask one of the assistant coaches and he tells me he wasn't here today and that I should come back Wednesday when they practice again at the school. Darn it I say, but hey, at least I picked up a tan outside.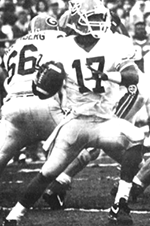 However, I come back to the field on Wednesday morning in another attempt to tackle this blistering Southern heat and I then spot Southwest Head Football Coach and Athletic Director Joseph Dupree - just the man I was looking for. I watch as the former Southwest Patriot, Georgia Bulldog, and Georgia Southern Eagle star quarterback plays catch with the present-day Southwest quarterback. Dupree, 44, in blue gym shorts, a white long sleeve fitted shirt, a red pullover short-sleeve jacket over it with the Patriot logo on the top right-hand side, a whistle around his neck, wearing black shades and a light brown mesh bucket hat looked primed, fit, and more than ready to lead practice - and withstand the broiling sun I can't help but keep mentioning. I see him before the scrimmage interacting with his quarterback, conveying instructions, game planning, encouraging him, and directing him to where to go with the football in certain situations and where not to go with it. Dupree knows this stuff. He understands what the position demands, especially from a leadership aspect. Even after an incomplete pass during a scrimmage -- by his likely starting quarterback when the season opens -- there's no jumping on his case by Dupree, instead just trying to understand what his quarterback sees on the field and relating to him the best way he can since he was a signal-caller himself back in the day. One quarterback to another quarterback. Watching football for sometime now, I've come to realize that the most important relationship between a football coach and a player is definitely between the head coach and the quarterback and that was even more evident to me watching Dupree communicate with his quarterback. Just observing him as a head coach, he leads with ease, not so much with force towards his team, and lets his coaches do their jobs. During a 7-on-7 drill, you can see Dupree's calmness on display as he quietly stands in the background keeping a watchful eye on the offense and his quarterback -- making sure he's making the correct reads and timely decisions. Oh and don't get it confused either, his fiery and intense side will come out too, as I witnessed. Dupree surely had a grasp of things as head coach.
If anything, the football field is where Joe Dupree grasped things the most. During Dupree's high school football career at Southwest, he became the starting varsity quarterback as a 10th grader and soon transformed into not only a standout quarterback but one of the finest quarterbacks in all the state of Georgia in the late 1980s. Considered one of the best high school football players ever to come out of the Macon area, Dupree was named the All-Middle Georgia Player of the Year in his senior year in 1989, while also leading the Patriots to an 8-3 record, which stood as the school's best record for 19 years (2008). Asked what that time was like as the "go-to-guy" or "The Man" at Southwest as I put it, Dupree responded, "Well really my mother and father taught me to be humble, take things in stride, and anything worth having you got to work hard for. So, I really didn't think about being the man, I just kind of went out there and played the game I loved so much." Dupree described his quarterbacking style as both a "runner" and a "passer" and added that "whatever the game dictated I did." I said, "So, like a dual-threat quarterback?" He playfully responded, "Yeah, before Michael Vick" as we both chuckled at that one. As a three-sport athlete in high school, it was apparent the sport that would take him the farthest was football and he was heavily-recruited and visited major schools like Auburn, Georgia, Ohio State, Texas El Paso (his first college visit), South Carolina, Florida State, and Notre Dame, ultimately deciding on the University of Georgia in 1990 (after a tight two-horse race between Georgia and Auburn he says) stating, "I always wanted to be a Georgia Bulldog. It was always in me."
Known as the "top drop-back passer in the state" coming out of Southwest, Dupree walked onto the University of Georgia campus as a freshman with the expectation of starting. "The expectation, the goal for myself when I stepped on campus was to compete for the starting job," said Dupree. After Georgia got off to a slow start (3-3) and quarterbacks Greg Talley and Preston Jones were struggling to generate not enough movement and points on the offensive side of the ball during the 1990 season, Dupree (who redshirted the first six games of the year) got his chance and came off the bench in the seventh game of the season in a home game against Vanderbilt. Dupree provided a spark that the Bulldogs desperately needed passing and running for one touchdown in a 39-28 victory. At the time, Georgia head coach Ray Goff described Dupree as a "change-of-pace quarterback" due to his formidable running style that would keep the chains moving down the field. Starting the last four games of the '90 season, Dupree had his difficulties passing the football at times but flourished more in the running game rushing for an impressive 119 yards versus Auburn four weeks later (which he still remains as one of two Georgia quarterbacks, along with Quincy Carter, since 1976 to rush for 100 yards or more in a single game) and later started in the regular season finale vs. home state rival and eventual national champion Georgia Tech Yellow Jackets in a 40-23 defeat. Georgia finished the season 4-7 with Dupree compiling 388 total yards of offense (202 passing yards, 186 rushing yards) to go with two touchdowns in his freshmen year. After the season and going into spring football in 1991, Dupree was No. 1 on the QB depth chart; however some changes were on the horizon at Georgia. Due to switching offensive coordinators, installing a new offense, and the emergence of one of the top passers in the state in Eric Zeier (former Heisman Trophy candidate and NFL quarterback), Dupree slipped from the No. 3 quarterback by the end of the spring to the No. 4 by the end of the summer -- which led to his transfer to Georgia Southern. If there are two things Dupree does take away from that one year at UGA, it is all the relationships he built and the point that education is very important in the long run. Said Dupree, "The guys from my recruiting class, we still keep in contact today and I built relationships that I could have never gotten if I didn't go to Georgia. That's a positive. And what I learned and always tell my players now is that you should always get your education just in case football is taken from you. I'm a firm believer that they can't take education away from you. It might be football, basketball, baseball, you could get injured, or go into politics, or a number of things, but once you get an education they can't take that away from you ever."
Heading into Georgia Southern in 1991, one would have thought the main reason was because of football. Nope, think again. "Actually, I wasn't going to play football anymore, said Dupree. I went to Southern because there was about four or five guys I played high school football with already there. Three of them were students and one was on the team, so I was just going to be a student. I honestly had lost my desire for football, so when I got on campus I was just enrolled as a student. I was there for about two weeks and my friend, who was on the team, told the head coach that I was on campus and they called me in for a meeting and offered me a scholarship. I called my parents up and they told me I should accept and I did and the rest was history." Making the move football-wise as an athlete wasn't so tough but the transition from Athens, GA to Statesboro, GA was quite a change for the young man. Said Dupree, "Traditionally, Georgia Southern had a rich tradition in football. They won several national championships but coming over from Georgia to Georgia Southern was like going from high school to college, as far as there facilities, campus, and uniforms because it was just different. But at the end of the day football was football."
In 1991, Dupree sat out the entire season and in 1992, he split time with Charles Bostick, where he actually played against his former school in Georgia in the '92 season (34-7 Bulldogs win), but in 1993, he became the full-time starting quarterback and turned out to be the most satisfying season of his college career. Once he became confident and comfortable within the offensive scheme of running the triple option - which he pointed out that you "had to get your reps in and study film" to fully grasp it - Dupree took off and his performance on the field vastly improved week after week. Dupree points to leading the Eagles to the Southern Conference Championship in 1993 as his "proudest team accomplishment" at GSU mostly because "it was our first year in the Southern Conference, nobody picked us to win, and we were coming off a subpar year." "When it came to my biggest individual accomplishment at Georgia Southern, it was graduating and getting my degree because I was the first of my siblings to receive a degree," said Dupree very proudly. Dupree ended up playing from 1992-1994 and he wrapped up his football career at GSU rushing for 951 yards and 11 touchdowns and throwing for 914 yards and 7 touchdown passes.
The No. 1 question I wanted to know leading up to speaking with Joe Dupree was if he ever envisioned himself as a coach. Said Dupree, "No, I never envisioned myself being a coach. I actually got into coaching back in 1999 with a buddy of mine who I coached with at Central City Park and I started there and really liked it. A friend of mine Dexter Copeland, who's the head football coach at Macon County called and gave me my first coaching job back in 2000 and I've been coaching ever since." From there on, Dupree has had coaching stints at Twiggs County (assistant football coach), Rutland High School (assistant football coach and head basketball coach), Westside High School (head basketball coach and assistant football coach), Henry County (head football coach), and now he's back at his alma mater of Southwest doing double duty as Head Football Coach and the Athletic Director. When Dupree took both jobs, as the Athletic Director he wanted to change the perceived reputation of Southwest being known as the "all talent, no discipline program" into a "Discipline Athletic Program."
When it came to me curiously wanting to know if Dupree ever dreamed of playing in the NFL, he quickly responded with, "Always." That led to asking who his favorite team was and he beamed with excitement and said, "The Dallas Cowboys. They were my favorite team as a kid." His favorite football player of all-time: Super Bowl XXII MVP Doug Williams. "Being a black quarterback, I always wanted to emulate him. He wore #17 for the Washington Redskins. I wore #17 at Georgia because of him. That's my favorite guy," said Dupree. Any comparisons in your personality as a coach and as a person I asked? "Yes, he said. The similarity is that I'm a disciplinarian." What about the pressure he felt when he came back to his alma mater and the vision he had to turnaround the program? What about helping lift up the troubling Macon community? "To be honest with you I put a lot of added pressure on myself, said Dupree candidly. I'm probably my worse critic in life. I didn't feel any pressure from the outside people but I put the pressure on myself. This community is in such an uproar where football is just a small part of it. So there are other things I need to do in this community besides win football games. I need to impact these guys lives [referring to his players]. We got gang problems. Unemployment. Teen pregnancy. So my job is just not to win games, it's to impact the entire community. I'm from here. I grew up about 10 miles away from here, so this is my community. I really take it to heart." Then he looked at it from a wins-losses perspective, "As far as wins and losses, it will take care of itself."
In the three years that Dupree has been at Southwest, defensive coordinator Trent Allen has seen the mindset and attitude of not only the football player's change, but the entire program, "Everything is positive, said Allen. He wants everything positive because we need that here since everything was so negative when he arrived. We'll instilling hope in the kids getting them to believe more in themselves. Were gonna see the results of it this year." Said junior left tackle Isaiah Goolsby, "Football-wise he's really pushed me as a player. He's pushed me to a limit that I didn't think I had that I needed to get to. Life-wise, he's taught me not to put myself in bad situations and focus on keeping my grades up so I can go as far as I want to." Mentioning what he has taken from Dupree since playing for him, "Be a man, be respectful, follow directions, be better as a person and not just a football player, said sophomore middle linebacker Randy Green. He's a very good coach."
Dupree, a 2015 Macon Sports Hall of Fame inductee along with eight other members (he called the honor a "humbling experience") and the only quarterback to start for both the University of Georgia and Georgia Southern has high goals for his Patriots squad in the 2016 campaign that's right around the corner. After going 0-10 in 2013, 3-7 in 2014, and 3-7 in 2015, said Dupree pretty straight-forward, "Expectation for this season is to win the city, win the region, and win the state. Anything short of doing anything other than those three things is gonna be a failure for us." (The first game for Southwest will be on August 19 against Northside Methodist Academy of Dothan, Alabama). Lastly I asked about wins, losses, and his view on how he defines a successful coach. Dupree replied, "The winning for me as a coach comes from seeing one of my kids being successful. The winning and losing comes and goes but I feel like the relationships you build with the kids are most important. That's where I judge my success on. I don't want to be judged for winning 10 state championships but I want my legacy to be how much impact I had on those kids life."
As the Former Southwest Quarterback turned Southwest Head Football Coach, Joe Dupree's impact is surely being felt through football. He seems to just be getting started.
© Copyright 2016 by The Middle Georgia Informer
P.O. Box 446, Macon, • GA 31202 * Ofc:  478-745-7265
Email: gainformer@yahoo.com