Former Bibb County Chief Appraiser Robert Gerhardt has been fired from his position as Chief Appraiser in Glynn County (Brunswick, Georgia) with a 3-1 vote by the five-member Board of Assessors to end his tenure on Tuesday, March 20, 2012. One board member was absent due to a medical procedure. Deputy Chief Appraiser Cary Carter will run the office until the board names an interim chief appraiser.
Glynn County Commission Chairman Richard Strickland is confident that the staff will be able to continue their work without Gerhardt. "There are very competent, professional people in that office," he said. "I have the utmost confidence in that office to carry on and not miss a beat until a new chief appraiser can be hired."
Gerhardt accepted the position of Chief Appraiser in Glynn County in January of 2008 after being fired by the Bibb County Board of Tax Assessors in Macon, Georgia.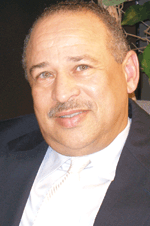 Calvin Hicks
Within months of securing a seat on the Bibb County Board of Tax Assessors, Gerhardt was working to complete classes to qualify for the Chief Appraiser position. Once Gerhardt qualified for the position, Chief Appraiser Calvin Hicks was then fired and the Tax Assessor Board promoted Gerhardt to Chief Appraiser. After 13 months as Chief Appraiser, Gerhardt was fired.
Calvin Hicks has moved up steadily since his firing in Bibb County, moving first to Baldwin County (Milledgeville), then to Richmond County (Augusta) and is presently Chief Appraiser in Dekalb County, Georgia (Decatur). He has enjoyed success at completing digests at each county in a timely manner. Hicks is widely considered to be one of the best Chief Appraisers in the state of Georgia.
According to the Brunswick News, Gerhardt admits that he knew his job was in jeopardy when he was asked to leave a closed executive session. Board chairman Mike Harris called him later that night and told him the vote was 3-1 to fire him. According to Gerhardt, the board held the deciding meeting when board Vice Chairman Peter Nermoe would be unable to attend. He stated that Nermoe would have voted against firing him "They all knew Peter would be out," Gerhardt said. "It was a railroad. It was a witch hunt. I knew I was fired." Because the board only needed a majority vote to fire Gerhardt, it is unclear how Nermoe's presence at the meeting would have made a difference in the outcome.
The Glynn County Tax Assessors office was audited by the State Department of Revenue after allegations that Gerhardt had manipulated property values to lower the number of appeals to below the five percent then required by the state to certify a tax digest. State investigators found that some property values appeared to have been manipulated to make them appear more marketable. Investigators concluded some of the appraisal methods were improper and, in some cases, illegal (Brunswick News).