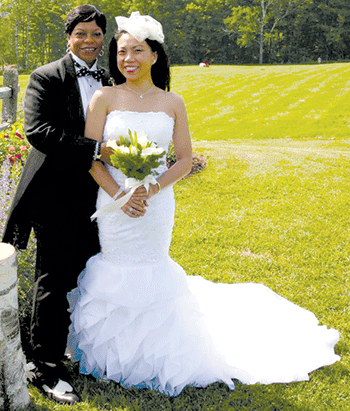 by Amanda Smith

Former Macon City Council President and mayoral candidate Anita Ponder married her life partner Angela Chen on June 17, 2014 in beautiful Chittenden, Vermont. The couple had been dating about a year and a half.
Ponder received her Bachelor's of Journalism/Communications from Florida A&M University in 1983 and her Doctorate of Jurisprudence from South Texas College of Law in Houston, Texas in 1986. Holding the distinction of many firsts, Ponder was the first African American female judge appointed to the Municipal Court in her hometown of Fort Valley, Georgia in 1998. She resigned her judgeship to run for Macon City Council after serving four and a half years. She is also the first female to serve as Macon City Council President and served in that position for almost eight years before resigning her position to run as a mayoral candidate for the City of Macon. Ponder also served as Director of Education at the Tubman African American Museum from 1993 until 2012.
In 2006, Ponder was selected by "The History Makers" in Chicago to be documented as an "African American History Maker." Recognition has come from many sources including being named as one of the "40 Under 40" by Georgia Trend Magazine, one of the "50 Most Influential Women In Georgia" by the Georgia Informer, "Best Community Leader" by Cumulus Broadcasting, and one of the "10 Most Powerful People" in Middle Georgia.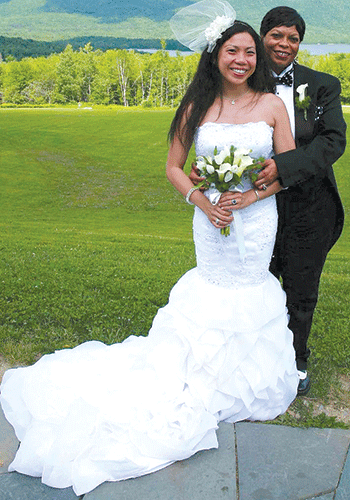 After leaving the political arena in Macon, Ponder began traveling to and from Texas to work on legal cases and it was there that she met her future wife. Chen, who is an attorney and a dentist and is also tri-lingual (Taiwanese, Spanish & Mandarin Chinese), worked on a mutual legal case with Ponder and the two began dating. Chen was born in Taiwan but moved to the United States when she was 6 years old and was raised in McAllen, Texas.
Following their marriage in Vermont, the couple honeymooned in Montreal, Canada for 3 days and then returned to Texas. "We knew that we would marry in Vermont from the very beginning," said Ponder. "Vermont is one of 17 states that have always been viewed as conservative, but that have moved forward progressively on the gay marriage issue. We searched online for possible places to wed and we found Chittenden - it was just beautiful." In keeping with Taiwanese custom, the couple married on a Tuesday at 11:30am - a lucky day and time by the lunar calendar. The families of both women flew to Vermont for the ceremony.

Ponder is proud to call Chen her wife. "Though I never hid it, my sexual life was something that I was not really open about," said Ponder, "because it just wasn't relevant to any public or political issues that were on the table. But when I met Angela, I wanted to become completely transparent about it because of my feelings for her."
Currently, same-sex marriage is not legal in Georgia. "Macon will always be home to me, no matter where I live," said Ponder, "but I was unable to express my love for Angela through a marriage ceremony in Georgia. I'd like to see Macon and the state of Georgia become more progressive on the issue of same-sex marriage," she continued. "Regarding the recent firing of Band Director Flint Dollar from his position at Mount de Sales - I have to say that it's such a tragedy when someone is fired because of who they love rather than their job performance. I love Macon too much not to care about this."
The happy couple is currently living in Texas, but this could be temporary. "My roots are in middle Georgia," Ponder said. "I haven't ruled out Macon and I haven't ruled out political office either. We haven't made permanent or final plans yet for the future."
© Copyright 2014 by The Informer, Inc.
P.O. Box 564, Macon, • GA 31201 * Ofc:  478-745-7265 * Email: gainformer@yahoo.com