For over 40 years the Georgia Association of Black Elected Officials (GABEO) has provided Black elected officials a venue to network and collectively tackle issues related to the best interests of the communities they represent. Macon got a chance to see GABEO in action on an intimate level October 26 - 28 during its 2012 Fall Conference.

The Fall Conference got out of the gate quickly on opening night with a pre-conference seminar at Macon City Hall entitled: "Stopping the KKK from Adopting Pubic Highways/Roads in Georgia" moderated by Baldwin County Commissioner Emily Davis and facilitated by Georgia Department of Transportation Board member Emory Clinton of the 5th Congressional District and DOT Commissioner Keith Golden. The seminar was followed by a reception hosted by Georgia State Senate Democratic candidate David Lucas.

Mount Olive Baptist Church became ground zero on October 27 for the organization's gathering of iconic concerned citizens, Black elected officials, men & women of the cloth and Civil Rights icons. Mount Olive is led by Revered Timothy Price, Sr. and describes itself as one of Macon's finest historical churches with a legacy of strong leaders for equality since the Reconstruction of the South. The church played a critical role in the Bus Boycott of the 1960's.

GABEO Vice President and Macon City Council member Elaine Lucas' invitation that she extended to members and their supporters to participate in Saturday's events in the Macon Telegraph's October 27 edition was greatly accepted as about 100 GABEO friendly folks gathered.

A prayer breakfast brought together an impressive group of clergymen and women including Pastor David Stanley of Union Baptist Church, Reverend Curtis Raines of New Pilgrim and Mt. Zion Baptist Churches, Cornerstone Baptist Church's Pastor Samuel Johnson and Macon City Councilman Charles Jones, pastor of Rising Star Full Gospel Church. The breakfast was followed up by a Plenary Session concerning the controversial Georgia Charter Schools Amendment 1. A candidates' forum hosted by Georgia Informer founder and publisher Herbert Dennard closed out the morning activities.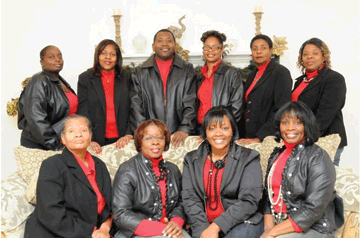 Noonday brought with it the highlight of the day, the Get Out to Vote Luncheon. GABEO President Tyrone Brooks presided over a succession of speakers who provided updates on their activities. The Quitman 10 + 2 was designated as the state's Movement of the Year. The movement first gained notoriety in 2010 when over 500 people occupied the downtown streets of Quitman, GA on behalf of two newly elected Brooks County School Board members Diane Thomas and Linda Troutman. Both were arrested on December 21, 2010 along with eight other local citizens following a Georgia Bureau of Investigation inquiry on alleged voter fraud. Brooks recalled how Democratic State Senate candidate and former state representative David Lucas contacted and urged him to go to Quitman following the arrests. "David was instrumental in bringing this terrible injustice to the attention of GABEO," said Brooks. "And it wasn't long after his phone call that we found ourselves in Quitman working hard to right this wrong."

The investigation was launched by a Brooks County official because of an overwhelming number of absentee ballots that turned up on behalf of Troutman and Thomas during the July 2010 primary in Brooks County. The ballots earned Thomas a victory over Gary Rentz and Troutman a win against Mayra Exum but at a cost. While their distracters cried foul, the Quitman 10 insisted that they won fair and square by getting local support through door to door campaigning; identifying non-registered voters and getting them registered; calling voters and other strategic outreach efforts.

In the November 2010 general election, Rentz lost to Troutman and Exum to Thomas during an attempt to win by switching places as Write In candidates. Since this failed effort, Dr. Nancy W. Dennard - a Black veteran educator - has been elected as President of the Brooks County School Board. However, Georgia Governor Nathan Deal issued an executive order this January removing Dennnard, Thomas and Troutman from the board. The three were reinstated to the Board in October because they were not tried within a reasonable amount of time. A new trial for the Quitman 10 + 2 has been set for December 2012. Only eleven of them will go before judge and jury however since one of the original members of the group has since died.

With the election looming at the time of the conference, it was expected that November 6 would be focused on heavily during the weekend event. No where was it exhibited better than at the end of the luncheon and the Get Out the Vote Rally in Tattnall Square Park following the church gathering. The much anticipated arrival of former United Nations Ambassador Andrew Young and Civil Rights legend the Reverend Doctor Joseph Lowery at the luncheon was by discussions on various topics.

Both got rousing ovations upon entering the room and later laid out the prospects of an America under four more years of President Barack Obama. Young revisited his original choice in 2007 to support Obama opponent Secretary of State Hillary Clinton and the price he paid for his decision. He says it was a conversation with Congressman Bobby Rush of Illinois that convinced him to get behind Obama following his defeat of Clinton in the primaries of that year. "Bobby said I'm supporting him because everyone that opposed him has gone down," Young laughed. "So I'm (Rush) going to get on the side of the Lord by backing Barack Obama."

Young also reminded those present of how Atlanta and other host sites benefited from the Olympics. Young - Atlanta's mayor at the time - is often referred to as the architect of Georgia's effort to get the 1996 games. He touted the 10 billion dollars that the Olympics infused in the state's economy and the 52.8 billion dollars that the Atlanta International Airport generated in 2011 as indicators that the games and the efforts of former three Atlanta Mayor Maynard Jackson were not in vain.

Lowery defended Obama's four year legacy during his time at the microphone by revisiting various accomplishments. But his central focus was getting American's, especially the Black community to embrace the concept of being fit to be used by God to make a difference. The ninety-two year old longtime Southern Christian Leadership Conference leader said that the Black community must become the moral compass of the country once more, as it did during Slavery, in order to demand that the country do better by them. "Lincoln didn't end Slavery. Black folks ended Slavery by taking the high road and creating an environment that led to the ending of Slavery," Lowery said. "We must save America again, but we can't do it if we are as corrupt as the corrupted. Let's give God clean vessels to save America's soul."

The energy and excitement exuded at the luncheon spilled over into Tattnall Square Park later in the afternoon as SCLC Chief Executive Officer Charles Steele, former Macon Mayor C. Jack Ellis and former State Representative David Lucas took to the stage to urge those listening, to vote and to get out the vote. The sentiment that Steele and Baldwin County Commissioner Emily Davis shared at the gathering is that GABEO definitely made the right choice in choosing Macon as the host site for its fall conference.
"Macon is the beacon. There are people here with vision and energy," Steele expressed. "I will always look out for communities like Macon as I travel." "When we come to these kinds of events, it helps to enlighten the entire community," Davis added. "The success of this weekend's GABEO activities here speaks well of Macon and its ability to attract people like these here at the conference."

Myja Danai Jackson, a sixteen year old high school student from Valdosta and her family and friends made the fall conference their weekend destination. She felt especially obligated to attend since she is the child of a single mother living in low income housing. "As a teenager I could have been elsewhere on a Saturday afternoon but I'm here because I want to make a difference," explained Jackson. Macon City Council member Frank Tompkins was please with the local effort. "It's a great effort to bring others to our community," said Tompkins. "It's been great for Macon to host this event."