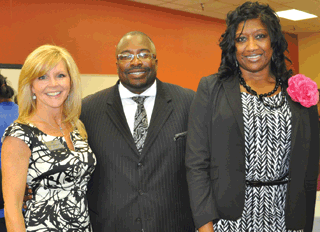 From left, Coordinator of Parent Training Kristy Graham, Coordinator of
Parent Education Dr. Terrance Smith, and Coordinator of Parent-Teacher
Resources at the Welcome Center Sabrina W. Jackson are excited about
all of the opportunities being offered through the Bibb County School District's
new Welcome Center.
When mom Rochelle Glover learned the Bibb County School District's new Welcome Center was hosting a Summer Academic and Enrichment Fair, she made sure her friends knew about the event. Glover, who has children at Taylor Elementary, Miller Magnet Middle, and Central High schools, has been using the Welcome Center's Parent-Teacher Resources Lab since learning of its availability.
"We came out to see some of the summer enrichment programs," Glover said. "We're trying to get a jump-start on summer, see what's out there, and figure out which road to go for summer and to see what opportunities are here."
She said her oldest is starting to think about college and his career path, and she hopes the Men in Medicine class she learned about at the fair will give him hands-on experience in the medical field since he is currently considering becoming a radiologist.
Glover was one of about 400 guests who met with vendors at the annual Summer Academic and Enrichment Fair on April 24 at the Welcome Center and Parent-Teacher Resources Lab. Representatives from about 35 organizations in Middle Georgia spoke with parents about camps and programs available to students this summer. Camps and programs represented included those focused on technology, science, sports, outdoor adventure, arts, programs for exceptional children, and more. The event was sponsored by Title I.
"There's been over 400 people here tonight - family, grandparents, mothers, fathers and children - showing community support for all of the programs we have out there that are ready to help our children and to close that achievement gap," said Deputy Superintendent of Student Affairs Edward Judie Jr. "I think this is just the beginning."
The Summer Academic and Enrichment Fair was the first of many events that will take place at the District's new Welcome Center. A parent and student information festival titled "How Do I ... ?" is scheduled for Saturday, May 5, from 10 a.m.-2 p.m. at the Welcome Center. During this festival, school and community representatives will provide parents with helpful information about school zones, tracking students' grades, class schedules, nutrition, school projects, opening a college savings account, and more.
Parents will also be able to begin attending workshops at the Welcome Center in May. Courses in mathematics, literacy, life skills, and technology will help parents connect with what their children are learning in school.
Workshops already scheduled include sessions on mathematics, literacy, and life skills:
- The 1, 2, 3's of Fractions and Manipulatives and Mathematics: May 2, 9, 16, 23, and 30 at the Welcome Center.
- Finding Me, Parenting You and Food Talk: Meals in Minutes: May 3, 10, 17, 24, and 31 and June 7 at the Welcome Center.
- Practicing Critical Thinking and Expressive Writing: June 5, 12, 19, and 26, and July 3 at the Welcome Center.
Technology classes will highlight the fundamentals of Microsoft Word and PowerPoint, and will teach parents how to use the District's Parent and Student Portals for accessing such information as student grades.
The Bibb County School District is home to "The Macon Miracle," Superintendent of Schools Dr. Romain Dallemand's Strategic Plan for improving the state of public schools in Bibb County. To learn more about "The Macon Miracle," visit the District's website, www.bibb.k12.ga.us, or Dr. Dallemand's blog, Compass Points, at www.romaindallemand.blogspot.com.
The Welcome Center is located at 2003 Riverside Drive. For more information about any of these events, please call the Welcome Center at (478) 779-3700.