Macon Delegates Make History
Four Macon delegates to the Democratic National Convention held in Philadelphia, Pennsylvania last week (July 24-29) were among the history makers of all time when they voted to nominate a woman to head the Democratic ticket as a candidate for President of the United States of America. The woman is Hillary Rodham Clinton, longtime activist, First Lady and senator from New York. Supporters of Senator Bernie Sanders protested during the convention but most of them finally agreed to the party's nominee.
The delegates, Dr. Henry Ficklin, Cassandra Powell, Teresa Southern and Fred Swann, are all members of the MaconBibb County Democratic Executive Committee with Ficklin and Powell representing the Second Congressional District of Georgia, while Southern and Swann represented the Eight Congressional District. 
The delegates were involved in all aspects of the Convention from the roll call vote of states to all the conferences, caucuses, lunches and parties. They were in the presence of leading democratic senators like Elizabeth Warren, Barbara Boxer, Chuck Schumer and Corey Booker and former Speaker of the House Nancy Pelosi.
Fred Swann remarked that being at the convention was a great experience. Both delegates Powell and Southern attended the Democratic women's luncheon hosted by Mrs. R. Samuels if Atlanta, where former Mayor Shirley Franklin was a key speaker urging that women be given specific reasons to vote in their own best interests. The Emily List's Reception was a highlight of the Convention. Delegate Powell is a member of this national organization that supports women running for political office. 
Dr. Ficklin stated that this was one of the best Democratic Conventions held in a long time that included speeches from both the president and Vice President, the First Lady and a former president. He said now we must work harder than ever to get out the vote and turn Georgia Blue because the rhetoric from the Republican candidate does not sound good for America.
© Copyright 2016 by The Middle Georgia Informer
P.O. Box 446, Macon, • GA 31202 * Ofc:  478-745-7265
Email: gainformer@yahoo.com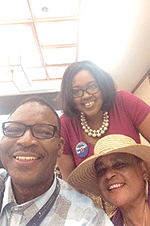 Macon Delegates to the DNC Dr. Henry Ficklin, Teresa Southern and Cassandra Powell at the "Celebrating Democratic Women Luncheon" on Wednesday July 27, 2016 at the National Democratic Convention at the Inn in Penn.