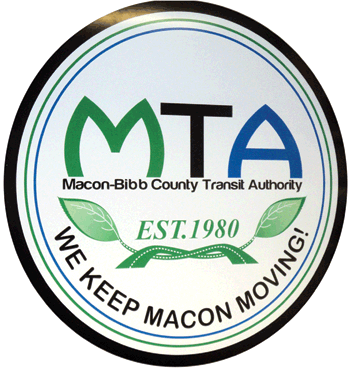 The Macon Transit Authority has made a complete turnaround from conditions two years ago, culminating in the unveiling of 5 new buses on Monday, February 20, 2012.
Monday's event, held at 12pm at the Historic Macon Terminal Station, was attended by and featured speakers that included MTA General Manager and CEO Rick Jones; MTA Acting Board Chairman Craig Ross and Macon Mayor Robert Reichert.
The Authority, which was plagued by a $1.2 million debt and was only seeing on-time service about half the time in a fleet of old, broken down buses, has turned around the business since 2009 by building partnerships with city, county and state officials that have allowed the replacement of aging buses and increased efficiency for ridership.
The overhaul includes 14 cutaway buses that are one-third the cost of conventional buses, but are three times more fuel efficient. Also included are nine Para Transit buses that transport people with disabilities and the elderly to appointments. Ridership has increased by 20% on established routes and 40% for Para Transit; the MTA is now running on time 90% of the time.
At Monday's unveiling, one of five newly purchased El Dorado buses pulled up to the Authority amid applause from attendees. The new buses were purchased at a cost of $375,000 each; three were paid for by an ARRA grant and 95% of the cost of the other two buses was covered by New Freedom federal funds. With the inclusion of the five new Eldorado's, the Macon Transit Authority has replaced 19 fixed route buses and 9 Para Transit buses. MTA has also installed GPS systems on all buses, allowing them to track and determine time performance at a moment's notice.
State of the art construction has been completed at the transfer station, allowing passengers to wait on bus transfers in a climate-controlled facility. Inside, passengers will be able to view digital wall monitors that indicate bus arrivals in real time; if a bus is running late, passengers will know and can be prepared. Electronic ticket machines have been installed that allow passengers to purchase their passes conveniently as they need them.

All improvements and equipment purchases have been completed with no cumulative debt. The Transit Authority's credit line has now, for the most part, been eliminated and operating contracts are approved in advance. Rather than operating on borrowed money while awaiting Federal operating subsidies, MTA now receives those funds within 60 days from request submission.
MTA General Manager and CEO Rick Jones is pleased with the overall improvements of the past two years and expects the Transit Authority to only get better. "This upcoming year we hope to expand service into our Industrial Area south of the county to give opportunity for our citizens to get to and from jobs located along the route," said Jones. "This route will service industries that currently employ thousands of individuals. We hope to expand into the downtown corridor to service many of our major employers, giving access to current and potential employees within our community," he continued. "With continuing support from our passengers and our community, we expect that our success will continue as we provide more and more needed service to the citizens of our entire county."