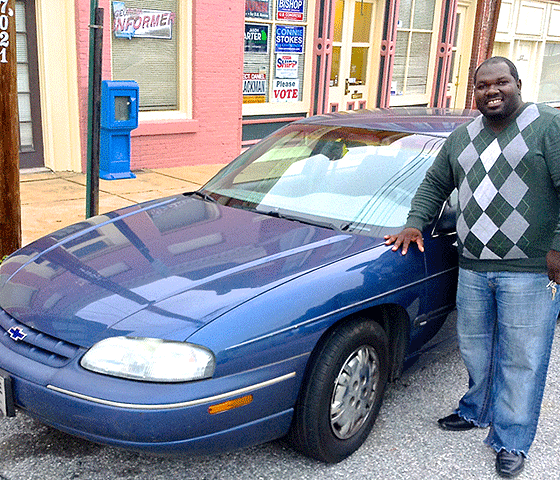 by Amanda Smith

New Fellowship Missionary Baptist Church, located at 475 Church Street in Macon, Georgia hosted the 2nd annual Macon's Sunday Best gospel program on Sunday, September 21, 2014 at 6pm. Contestant Marcus Cason walked away with the grand prize of $500 and a 1995 Chevy Lumina. Ronald E. Carr was named 1st runner up and Jessica Ziegler walked away with the 2nd runner up award. Promoter and host Wallace Adside, a member of New Fellowship, of which the Reverend Ronald Terry is pastor, gave away cash to competitors and attendees during a competition that featured some of the best voices in the middle Georgia area.
Potential contestants arrived at the church one hour before the event to register and selected performers all received $100. Guest appearances at the event included Pastor Chad Cooper (Pastor of A Wealthy Place Kingdom Church and Director of the play Church Mess) and last year's contest winner Latrice Smith. Guest singers for the event were Divine Men of Favor.
Cash prizes were given out during the evening as various games were played; with total cash dispensed equally nearly $7,000. Approximately 1,200 people attended the concert to which a local all-star cast of back-up singers and musicians assisted the contestants. Background singers included the New Fellowship Choir, the Ministers of Praise (with Brother Antonio) and the Unity Baptist Church Choir. Music staff included keyboardists Douglas Wendell Pitts and Greg Austin, guitarists Eddie Tookes and Freddie Adside, and percussionists "the Cedrics" on the drums.
Contestant's performances were judged by Pastor Lisa Watson (Co-Pastor with Dr. Mary Butler of Evangelical Liberty Christian Church), Michelle Booker (Minister of Music, Greater Zion Hill Baptist Church, the Rev. Dr. Walter L. Glover, Jr.) and Marvin Bryant (Minister of Music, New Pleasant Grove Missionary Baptist Church, Rev. Richard Gammage).
Minister Bobby Clark of Kingdom Building Ministries in Macon emceed the event alongside Adside. "This event was super great," said Clark. "We had terrific singers, including performers that I didn't even know could sing." An offering was taken during intermission to benefit New Fellowship Baptist Church.
A self-employed demolition expert and employee for Troy Young Realty for over 30 years, Adside has been funding a program on the 3rd Sunday in September for the past seven years. For the first five years, the event was known as the Old Fashioned Gospel Musical and Adside wants to continue the Macon's Sunday Best event for many years to come.
Wallace Adside is married to the lovely Pameria and the couple has five grown children.
© Copyright 2014 by The Informer, Inc.
P.O. Box 564, Macon, • GA 31201 * Ofc:  478-745-7265 * Email: gainformer@yahoo.com