Meet The Macon NAACP President Gwenette Westbrooks
President elect Gwenette Westbrooks, was employed with the Medical Center of Central GA Hospital for twenty two years, dedicating her life to enhance the lives of others,educating them on their social, and economic needs, has unselfishly educated the public on their civil rights has been and advocate for all people over the years has helped families to become self sufficient. Currently employed with the Department of Family and Children Services., has been an active member of the NAACP since 1999 and served in numerous capacities, as secretary, chair of legal redress, chair of ethic committee, Assistant Treasure, First Vice President.
As the President of the Macon Branch my vision for this branch is to unite with our churches and leadersin the community to bring this community together. We will be concentrating on education for our children,introducing resolution to reach our children that are in in our court system. Work together in resolving the social and economic issues in our community. To unite with law enforcement and probation officers regarding rehabilitation for inmates and prisoners. To increase our membership to a level that this organization will overflow in the community, because we are a servant to the people. The NAACP must always stay focused on our mission and vision. It is my belief that when there is unity there is strength and in unity it will bring on change.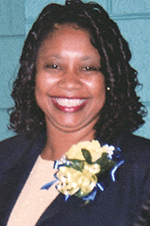 Gwenette Westbrooks
President Macon NAACP