Morris Brown College issues in a "New Era" and celebrates 130 years of continuous service in educating students with its fourth annual TOWER OF STRENGTH Awards Gala on Friday, October 15, 2011. This black-tie occasion was a "Circle of Friends" fundraising event for Morris Brown College student scholarships.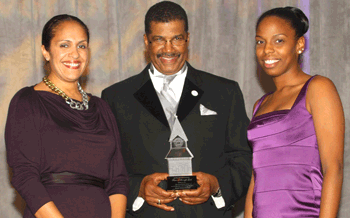 Ms. B. Edmond, Dr. Pritchett and Ms. R. Coleman
The Steward Wiley/Wesley John Gaines President's Leadership Award, named to honor two pioneer leaders of the college and presented by Morris Brown's President Stanley Pritchett, was given to Dr. John H. Carter, the Initial Project Manager of the Dr. Martin Luther King Jr. Memorial on the Mall, and to Dr. William Sonny Walker, Vice Chairman of the Board of Trustees at Morris Brown and Chairperson of the Special Committee which is leading the on-going turn-around plans of Morris Brown.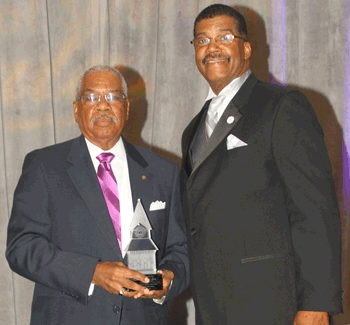 Dr. John H. Carter and Dr. Pritchett
"This year's Tower of Strength Awards brings a special significance for the college," says Dr. Pritchett. "We have come to a cross-road in the life of Morris Brown and we are certain that we chose the right path towards becoming a model of educational leadership with a bright and glorious future."
"Morris Brown has always been a center of thought provoking learning and academic freedom for thousands of professors who taught at this exceptional institution. We have named several of our awards after these professors. Fountain Hall and the Bell Tower, standing on a hill at one of the highest point in the city of Atlanta, have also represented a 'Haven for all hungry souls' for those students seeking a refuge of learning," said George Hopkins, President of the Morris Brown College National Alumni Association. The Tower of Strength Awards were presented to the following:
• The Drs. Charles L. Harper / Ann S. Cochran Award for Distinguished Achievement in Education was presented to William "Bill" J. Taggart; President and CEO of the Atlanta Life Financial Group;
• The Oscar Burnett Award for Distinguished Achievement in Business was presented to Bunnie Jackson-Ransom, President and CEO of First Class, Inc., a public relations agency that has worked with Morris Brown during their turn-around plans;
Dr. Gloria Long Anderson
• The Drs. Griffin /Hightower/Billings Award for Distinguished Achievement in Science was presented to Dr. Gloria Long Anderson, Vice President of academic affairs at Morris Brown and a Fuller Calloway Professor of chemistry; and Dr. Willie F. Payne, retired Professor of biology at Morris Brown College.
• The Dr. G. Johnson Hubert/Cleophas R. Johnson Award for Distinguished Achievement in Music went to Darius Devon Paulk, a 2011 graduate of Morris Brown College, and the gammy award winning song writer who penned "Nobody Greater;"
Rev. Dr. Marvin A. Moss and Dr. Pritchett
• The Bishop Henry McNeil Turner Award for Distinguished Achievement in Religion was presented to The Reverend Dr. Marvin A. Moss, Senior Pastor of Cascade United Methodist Church.
Host for 2011 Tower of Strength Gala was Aungelique Proctor, an award-winning television journalist with WAGA TV- Fox5 News. Representing the new Morris Brown College Foundation was John F. Wymer III, Esq. who brought greetings for the occasion.
Sonny Walker and Dr. Pritchett
In the audience for this evening's festivities were approximately forty (40) students whose presence was made possible through the sponsorship of John C. Portman and John Portman & Associates. Entertainment for the evening was provided by Phillippa , a Neo Soul phenomenon and Che Marshall & The Cocktail Hour.
Dr. Jacqueline Pollard, Chair of the Tower of Strength Gala said, "The hard work that all of us do for Morris Brown College is a labor of love and this year's gala was simply that best because we honored individuals who have given so much to this great institution. We are overjoyed with the participation of our corporate sponsors, friends and alumni. We are thankful for every contribution made and the incredible spirit and generosity shown during the past year."
© Copyright 2010 by The Informer, Inc.
P.O. Box 564, Macon, • GA 31201 * Ofc:  (478) 745-7265   *  Email:  gainformer@yahoo.com