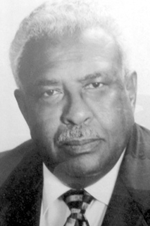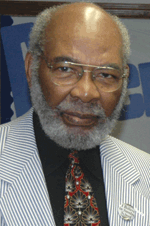 Albert Billingslea and Rev. Richard Gammage
Macon native Albert Billingslea and the Reverend Richard Gammage, pastor of New Pleasant Grove Missionary Baptist Church, will be honored by the Macon-Bibb Chapter of the NAACP with the Earl T. Shinholster Freedom Fund Award at its annual Freedom Fund Awards Banquet. The event will be held on October 24, 2010 at 6pm at the Goodwill Anderson Conference Center, located at 5171 Eisenhower Parkway in Macon, Georgia. Tickets are $40 Advance Donations and are available through Tubman Museum, Habersham Records or call 478-745-9944.
Albert Billingslea was born in Macon, Georgia and grew up in the Pleasant Hill community. After graduating from Ballard Hudson High School in 1945, Billingslea went north for five years, but returned to Macon to stay. The founder of Billingslea Construction, Albert Billingslea proved himself to be an honest and skilled builder, respected not only by other builders, but by the business community at-large. In the 1990s, he founded and operated Ebony Bonding Company and Brown & Billingslea Real Estate. In 1972, Billingslea was elected local chapter President of the NAACP and was the first Maconite to hold a lifetime membership in the organization. He was elected to the Bibb County Board of Commissioners in 1980 and served with the Commission for sixteen years. Billingslea also served on the Bibb County Planning and Zoning Commission for several years and was elected Chairman in 1975. Appointed to the Macon Water Authority board, he faithfully served for several years, building the Authority in size and services. The Macon Water Authority building in downtown Macon now bears his name.
For more than fifteen years, Albert Billingslea has advocated for addiction treatment and recovery residential services in Macon and on May 20, 2010, the Billingslea Recovery Residence was dedicated to this tireless worker for others.
The Reverend Richard Gammage was born in Worth County, Georgia and attended Carver Bible College, Brown College of Transoral Science, the Morehouse School of Religion and the Interdenominational Theological Center. Rev. Gammage also attends annual sessions of the National Baptist Convention USA, the National Congress of Christian Education and the General Missionary Baptist Convention of Georgia.
Reverend Gammage pastored Hopewell Missionary Baptist Church in Norcross, Georgia and China Grove Missionary Baptist Church in Atlanta before coming to New Pleasant Grove Missionary Baptist Church, where he has remained for the past 31 years. He is a member and President Emeritus of the Evangelical Ministry Alliance of Macon and Vicinity; a member and instructor for the General Missionary Baptist Convention of Georgia; a member of the Baptist Ministers Union; a Preacher's Preacher; an Evangelist and a Church School Instructor.
A leader in every Martin Luther King, Jr. march since 1980, Reverend Gammage is the recipient of a 2010 Lifetime Achievement Award from Harry L. Ross Promotions.
"There are many who serve our community, and then there are trail blazers like Reverend Gammage and Albert Billingslea, who's continued commitment and dedication help shape and mold our community," said Macon-Bibb NAACP chapter President Al Tillman. "Anyone who comes in contact with these two giants walks away blessed and filled with a wealth of knowledge."
Ms. Beverly Jones, President of Sisterhood, Inc., will be receiving the Community Service Award and Dr. Mary Butler and Pastor Lisa Watson of Evangelical Liberty Christian Church will be receiving the Church Community Service Award. Herman "Skip" Mason, 33rd General President of Alpha Phi Alpha Fraternity, Inc. will be the speaker for the event.
The Earl T. Shinholster Freedom Fund Award has been given annually since 2001 in memory of Earl T. Shinholster, national NAACP interim Executive Director, who died in an automobile accident in 2000. Shinhoster began his lifetime service to the NAACP as a youth volunteer with the Savannah branch and worked his way up to the top of the organization. During his 30 years of service, Shinhoster held several senior positions, including that of National Field Secretary and acting Executive Director and CEO.