2018 is the 92nd year of the recognition of the contributions of Black People to the world known as Black History Month. Even today, we continue to learn of the immense contributions made by people of African descent in films like "Hidden Figures", Dr. Henry Louis Gates' series on tracing the genealogies of famous Africans and African-Americans as well as a renewed connection to people of African and Afro-Latino descent currently engaged in this administration's immigration battle. At times, we are our ancestors' wildest dreams and then at times it seems as if we haven't progressed past where our ancestors fought. No matter where we are in history, one thing is for certain, never has the future of our children been more important to consider. When we look at our local landscape, we have had leaders in the past like L.H. Williams, Ruth Hartley Mosely and Charles Douglass who were intentional about the advancement, education, and economic empowerment of people of color in Macon-Bibb. Today, we have thought leaders like businessman Cliffard D. Whitby who has been at the forefront of innovative models of advancing many of those same causes of economic development, education, and advancement. All of this work is strongly rooted in the belief that every black child albeit every child deserves a community where they have a Chance to Advance.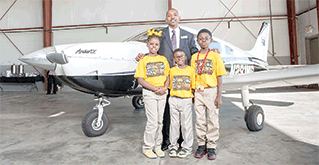 We must ask ourselves: what do our children see when they look at Macon-Bibb, their hometown? Who is on the watch for black children and poor children? What organizations have been most innovative? What legacy organizations are operating under a failed model? The startling reality is our community continues to take one step forward and five steps back. The headlines, the breaking news, the infrastructure, and the institutions are reflections of the state of black children in Macon-Bibb. Too often, we hear and feel the pressure of A Chance to Advance based simply on zip codes and skin color. We must begin to ask deeper questions and demand more from the services, leaders, and entities responsible for providing for our beloved community.
Imagine a little boy in East Macon seeing a real airplane for his first time. Pictured below, students from Burdell-Hunt Elementary School in "The Leader In Me" Program recited the Pledge of Allegiance to celebrate Middle GA State University's and the Macon-Bibb County Industrial Authority's (MBCIA) partnership to bring a full aviation program to the Middle Georgia area. Under the then leadership of former Chairman Whitby, the investment was dual. Not only did he see the value of investing in the Downtown Airport but he saw a dual connection in inspiring young black children in the East Macon area to pursuing their dreams. The MBCIA was the first to financially commit to launching the "The Leader In Me" program pilot at two Bibb elementary schools and financially committed the funding model for the aviation program at the Macon Downtown Airport in East Macon. These are the critical investments we need to secure an equitable future for Macon-Bibb's children to have A Chance to Advance. Former MBCIA Chairman Cliffard Whitby understood how a fundamental and deliberate approach is the only way to build inclusive communities where economic advancement is not only reserved to the status quo.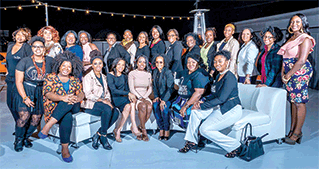 Advancement must occur across all lines. For example, less than five years ago: 71% of the children in the Unionville/Tindall Heights area ages 0-5 did not attend a formal daycare and 61% of elementary/middle school students as well as 86% of high school students lacked access to the internet at home. Literally in one concentrated area of the city, children without access to early education or the internet will experience statistical patterns of No Chance to Advance. Education was once called "The Great Equalizer", however, if children don't have equal access to the same standards regardless of race or zip code, opportunities to advance disappear. Race is a huge factor but not the only factor. Gender advancement is also on our advancement watch.
As we looked at the advancement based on race and gender, it was equally startling to see the lack of representation of black women in leadership in Macon-Bibb. Startling because African-American women represent the largest number of citizens in Macon-Bibb. There are 10,000 more black women than black men, white men, and white women with most being millennial-aged. However, very little direct programming exists to target this demographic and when we release our Leadership Report, you will see the absence of black women in leadership even more.
To underscore the necessity of advancement of women of color, Macon-Bibb was ranked #15 on a survey about great places for women to launch a business. Last year, a picture circulated social media locally and nationally for two reasons that solidifies the point: 1. Janell Stephens, multi-millionaire natural beauty products founder/CEO of Camille Rose Naturals Products spoke at an event in Macon. She has a combined one million followers on social media. 2. The hashtag #BlackGirlMagic which is a new celebration of the accomplishments of black women accompanied the photo. The event was entitled #reImagineMaconBibb, an initiative launched to engage Macon-Bibb millennials in economic development. The picture reflects the group of young black women in attendance at the event hosted at the Mercer Lofts on the theme of "Entrepreneurship/Small Business". What a hopeful sight! To see a large body of young black women in the area interested in entrepreneurship which is one of the fastest and most reliable sources of generational wealth for black women. The initiative was the brainchild of the former Chairman of the Macon-Bibb County Industrial Authority, Cliffard Whitby. Our question now should be, who will take up this mantle? Who will be at the table to be the voice? Will these young women have a Chance to Advance in Macon-Bibb as entrepreneurs? Who is doing the deliberate work to engage or ensure their advancement?
There are many factors relative to creating opportunities for advancement. Isn't it amazing that our area was once on the cutting edge of innovative approaches to inclusion? Shouldn't we try innovative ways to include more people at the table of advancement? It would surprise you to know how southern cities are advancing black communities. Some of the most successful cities in the US are in the South as documented by Forbes magazine in the article titled, "Forbes 10 Cities Where African Americans Are Doing the Best Economically Are All in the South". Forbes measured statistical data from 53 large cities using four criteria to determine how African-Americans are doing in each city: the homeownership rate, entrepreneurship as measured by the selfemployment rate, median household income, and demographic trends from 2010 to 2016. Macon-Bibb didn't appear on the list; however, we were beginning to move in the right direction in terms of access points for minority contractors, economic development, and policy. These are points to ponder if we are engaged in the meaningful work of building communities where all children based on the content of their character and not their skin color have a Chance to Advance.
We are excited about this series! We are grateful for your positive feedback about this new direction. We are in the process of collecting more data, public records and rankings of our community's progress or regress. We are adding new staff this year to bring you the BEST MOST BALANCED NEWS that reflects your point of view in Middle Georgia. We can't wait for our stories to be told by entities who lack the inclusion of our voices.
TRUTH STILL MATTERS! JUSTICE STILL MATTERS!
© Copyright 2017 by The Middle Georgia Informer
P.O. Box 446, Macon, • GA 31202 * Ofc:  478-745-7265
Email: gainformer@yahoo.com