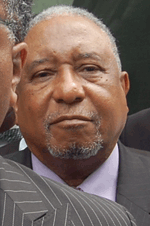 C.T. Vivan and Dr. Benard LaFayette
Photos by Clyde@clyde_bradkley@msn.com
After several years of disturbing disharmony, discord and distractions, SCLC has robustly bounced back thanks to the trio of seasoned and savvy civil rights savants now calling the shots as the collective leadership of the venerable organization.
Their collaboration has proven to be so providential that SCLC Board Chairman Dr. Bernard LaFayette, President Dr. C.T. Vivian and CEO Charles Steele have been dubbed "The Dream Team" - a quintessential blend of talents, temperament and tasks.
This unique leadership team is the brainchild and handiwork of SCLC's low key boss and chief strategist, Dr. LaFayette, an ordained minister, longtime civil rights activist, organizer, and an authority on nonviolent social change who is currently the Distinguished Senior Scholar-in-Residence at Emory University's Candler School of Theology. He is the conductor of SCLC's revamped organizational orchestra.
"The organization had suffered some difficulties with leadership as all organizations often do," Dr. LaFayette explains. "Difficulties are not uncommon. The question is how you respond to them. And using Dr. King's model, after a storm you look at what can be saved. I have seen great organizations go down, lose their effectiveness and forced out of existence mainly because of their internal storms. The response to a storm is to wait until the storm is over because you have no control over outside elements. Once the storm is over I look for valuable assets. I found Dr. C.T. Vivian, who had a history with SCLC and knew the organization, and also, found Charles Steele, who made an unusual contribution to our organization by building its first headquarters. You have to bring valuable assets back to the organization. They had the experience of dealing with conflict and storms. Both these gentlemen have proven themselves, without question, as men of integrity who are willing to make sacrifices. They also have skills and abilities in dealing with people. That's what we needed. So, I was just elated when they agreed to come aboard."
Dr. C.T. Vivian is SCLC's sage and visionary. A veteran nonviolent protestor against discrimination since the 1940's, he is a quintessential civil rights warrior who was a member of Martin Luther King's executive staff. He was with Dr. King in every major movement following Montgomery. Rev. Vivian, a renowned orator and innovator, also joined the Freedom Riders. Known for his courage and outspokenness, this lifelong advocate for racial equality continues as an exemplar of disciplined direct action in a spiritual and sacrificial manner to advance civil rights and human freedom.
"It represents a return," he says of the so-called Dream Team. "It represents a former president that had built this building as proof of his ability. And, we look at Bernard LaFayette, who is most outstanding in terms of nonviolence – writing it, teaching it, taking it all over the world. So when you put us all together it says we are back; that SCLC is alive again; that SCLC is building again."
"It says something about the greatness of SCLC more than us," the vim 88-year-old continues. "It says that SCLC was so important in our lives and the life of our people and our nation that we could not say no to the idea of coming back and playing a part. We want people in the community to feel the same way that we do – that SCLC is worthy of sacrifice.
"Yes, I have a vision for where SCLC should go because Martin King was letting us know where we should go," adds the founder of the C.T. Vivian Leadership Institute (CTVLI). "He said it in his last book, 'Where Do We Go From Here'. That is our guide, once we get on our feet. There is so much groundwork that needs to be re-laid so that we can strike out on things the size of what Martin was talking about."
Charles Steele, Jr., the dynamic businessman and former Alabama state senator, was SCLC's president from 2004 through 2007. He's back now for a second tour of duty as CEO and President Emeritus to improve the financial footing and public perception of SCLC. The funeral home owner's assignment is to save,to rescue the nation's most significant civil rights group one more time. Steele's expertise is raising money. The fiery and focused dynamo confidently echoes the lyrics of the Staple Singers' popular tune when he says "Let's Do It Again!"
"The reason I'm back is out of survival," he opines. "We were asked to come back because of desperation. SCLC was in the foreclosure mode of a $3.5 million building that I left debt-free. We cannot allow this type of imagery to go out around the world that Dr. King's organization was resurrected and now it has declined. We are here to continue and fulfill the dream of Dr. King to internationalize and institutionalize SCLC. People throughout Europe and Africa are on fire to be a part of SCLC. As African Americans and SCLC we have proven that nonviolence and coming together holistically and harmoniously works. We have documented that case. Throughout the world they are saying ,'teach us'. Our mistake is that we did not go across the Atlantic Ocean after we were successful. We laid back a rested on our laurels and it has caught up with us.
"SCLC must get out of the church culture," Steele continues. "You can be a Christian and still be about business. You cannot run SCLC like a church. We will always be the Southern Christian Leadership Conference. That is an historic and iconic brand. It's all about successfully promoting your brand. You don't have to work as hard to convince people when you have a brand like Martin Luther King, Jr. and SCLC. We are an extension of the King family. No one can take this away from us. It's SCLC that was the vehicle and foundation for Dr. King. We own the rights to the brand."
The exploits and celebrated careers of both Dr. LaFayette and Dr. Vivian are deemed so significant and substantive they are prominently featured in the National Civil Rights Museum soon to be opened in Atlanta for future generations to admire.
So what then does this newest incarnation of SCLC's leadership portend for this venerable organization's future? Dr. LaFayette offers this perspective:
"SCLC has produced more national leaders than any other organization who are advocates for poor people and the underserved," he opines. "They have the SCLC stamp on them because they followed Martin Luther King's model. I am very proud to all those people that we see, and we know who they are. They were touched by SCLC. We need to touch more young people, and put that stamp on them so that we can make sure that that leadership continues. This Dream Team , we are all committed to the same goal and that is training young leadership – giving them the opportunity to learn how to tackle problems in a nonviolent way in following Martin Luther King's model. SCLC will be establishing leadership training academies around the country."
Maynard Eaton, SCLC's managing editor, is an 8-time Emmy Award- winning news reporter and who is also Executive Editor of S.E. Region News and President of Eaton Media Group.