Tuskeegee Airmen
I had the pleasure this weekend of seeing the new George Lucas movie Red Tails - the story of the Tuskagee Airmen. After watching the movie - while I enjoyed it - there seemed to be a lot of missing pieces for me in regards to how this illustrious group was formed. Growing up I had heard of the Tuskagee Airmen - and knew that they were the first all black squadron of American fighter pilots - but other then that - I knew nothing else about them - so after watching the movie I took it upon myself to do some research - and what I found out amazed me.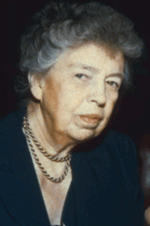 Eleanor Roosevelt
Firstly, (as George Lucas failed to mention in this film), three women played a major part in putting these courageous men in a position to fight for their country - the most important being Eleanor Roosevelt. Due to racial discrimination, African American servicemen were not allowed to learn to fly until 1941, when the 99th Fighter Squadron was created. An "experiment" - as it was called - of training black pilots and ground support members was held at an airfield adjacent to Alabama's Tuskagee Institute. Charles Alfred Anderson (pictured here with Eleanor Roosevelt) became the first African American to earn his pilot's license which led him to teach the Tuskagee pilots in training. When Eleanor Roosevelt visited the Tuskagee Army field in 1941 she insisted on taking a ride in an airplane with Anderson at the controls - much to the hesitancy of her Secret Servicemen. Eleanor Roosevelt insisted that her flight with Anderson be photographed so that she could take the picture back to Washington as part of her campaign to convince Franklin D. Roosevelt to activate the Tuskagee Airmen in North Africa and Europe. What initiated her visit and her will to fight for these men were the thoughts of Southern legislators who ranted that "Negroes did not have the intelligence to learn to fly" and who also felt the "experiment" was a waste of government funds. Mary McLeod Bethune, a member of FDR's "black cabinet", saw this pilot program as a way to integrate the army . She also used her influence to open pilot training programs at other historical black colleges and universities. Willa Beatrice Brown, a famed pilot, and the first black woman to receive a commission in the nation's Civil Air Patrol used her high profile also to promote African American interest in the field. The diligence of these women paid off - and in 1943 the Tuskagee Airmen entered into combat over North Africa. The plights of these women also helped lead to the desegregation of the United States Military, initiated by FDR, in 1948. Unfortunately, as I mentioned, none of these women were given any screen time in this film.
Mary McLeod Bethune
Secondly, I also learned a number of other interesting facts. Thurgood Marshall, future Supreme Court justice, got his start as an attorney defending the Tuskagee bomber trainees. Not only did these men face the hard task of proving themselves as pilots, they also had to face racial prejudice when some were accused of mutiny after they entered an all white officer's club. Other illustrious Airmen included civil rights activist Percy Sutton and former Detroit mayor, Coleman Young.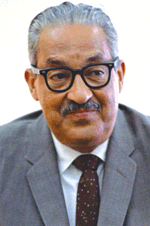 Thurgood Marshall
Proving their courage and skills, and moving their way from "escorting" the front line of fighter pilots, to becoming the front line in some of their missions - the Tuskagee Airmen completed more than 1500 missions during the war. When the war had ended they returned home with 150 Distinguished Flying Crosses, Legions of Merit and the Red Star of Yugoslavia. Three Tuskagee Airmen also went on to become Generals.
In retrospect, after learning some of these facts, I am bothered that our children are not being taught some of these details about our past heroes. I myself have a son who is 37. He is the product of a bi-racial marriage. I asked him today if he was taught in his school growing up about the Tuskagee Airmen. His comment was "I've heard of them but we only talked about them for a split second in school." It was always so important to me raising him, to teach him about both races and the best of both worlds so to speak - and after his answer and all the facts I recently learned myself - I feel as though in some small way I failed him by not teaching him about these men and what they actually had to go through to accomplish what they did. But I guess in some small way we are all a little guilty as present day parents to not take the time to share this information with our children. Cuba Gooding Jr., one of the actors in the film, stated "For my children to not know about this part of history is unacceptable." Anthony Hemingway, producer of Red Tails, was quoted as saying: "I looked into the eyes of these amazing guys, and as a black man and an artist myself, I knew I had to tell the story that reflected the huge responsibility I have to my community". Hemingway, age 36, also noted he was not aware of the Airmen as a kid.
Let us, as parents, and adults take the time and responsibility to share some of this knowledge of our past heroes with our children. It is never too late to learn.