Family Care Solutions Health Services Training Institute is pleased to announce the Winter 2011 Class of its Certified Nurse Aide Program in the Buck Melton Community Center, 150 Sessions Drive, Macon, Georgia.
The philosophy of the Family Care Solutions Health Services Training Institute's Certified Nurse Aide Program, is to promote quality of patient care; to provide entry-level skills for employment as a Certified Nurse Aide (CNA); to prepare students for successful completion of the Certification Examination for the state of Georgia; and to provide awareness of opportunities/choices in health care occupations.
Family Care Solutions Health Services Training Institute is now accepting candidates for its CNA Training Program, which is set to start Monday, January 31, 2011. Information Session is scheduled for Monday, January 10, 2011, from 5pm until 7pm at Buck Melton.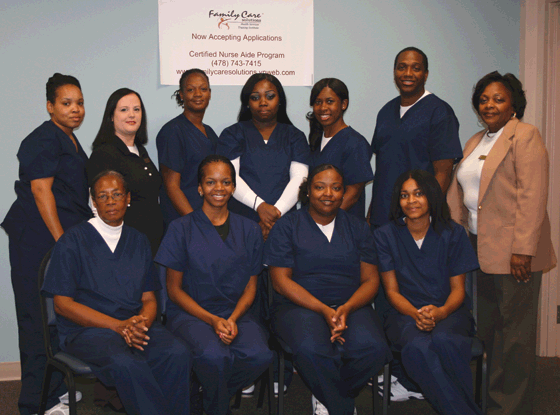 Family Care Solutions Health Services Training Institutes' CNA Program, as delivered in the State of Georgia, will consist of 90 hours, 38 classroom hours, 28 laboratory hours and 24 clinical hours, which will include CPR and First Aid instruction and certification.   Classes will meet for approximately 30 days (Monday - Friday).
Interested candidates are required to complete the application process, which include submission of three recommendation letters, a scheduled face to face interview, the completion of a written assessment and the completion of the application.
All recommendation letters should be completed by a health care professional, employer, teacher/advisor, or business professional on company letterhead mailed on behalf of the candidate and should include why the candidate should be considered for the FCS CNA Program, the candidate's name, address, email, best contact telephone number and mailed directly to:
FCS CNA Program, P.O. Box 4662, Macon, GA 31208-4662.
For additional information on enrollment, please contact us by email: cnaprogram@mycaringcompany.com or call us 478-743-7415.