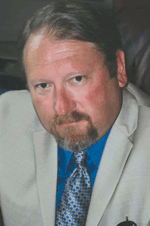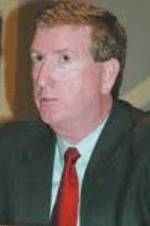 Howard Simms and Kelly Burke

Thousands of individuals have been banned from the counties in which they live in Georgia as a condition of probation or parole, or as part of their sentencing under Georgia's banishment law.
This leaves quite a lot of room for courts to banish offenders within the boundaries of the state of Georgia, either by banishment from an area or banishment to another location (as a condition of probation or as a condition of a suspended sentence). This "wiggle room" has resulted in banishment of offenders that include disbarred lawyers; child molesters; stalkers; prostitutes; those making terroristic threats to a judge and even abortion protesters. It is most commonly used however to remove offenders who are repeatedly arrested for drug offenses (selling and use) and domestic violence cases.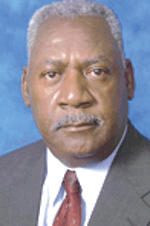 Greg Winters and Willie Talton
"I've only used banishment twice (as District Attorney) and as a prosecutor, I would occasionally ask for it" said Bibb County Superior Court Judge Howard Simms. "In some cases, it's very appropriate as in when the offender has no ties to the community or when a gang is involved (the offender loses his gang ties)," he continued. "In some circumstances, it can be very effective, but it's not practical and useful in every case."
The Georgia Supreme Court has consistently upheld banishment for offenders when the sentence meets two important criteria: Banishment must be reasonable and must have logical relationship to the rehabilitative purpose of the sentence. According to the Ga. State University Law Review 803 (Summer 2011), the state of Georgia has used the 158 out of 159 county banishment, i.e. the offender must remain in one county of Georgia for the duration of the banishment (generally rural Echols County); this practice resulted in many offenders simply leaving the state. In 2006, Georgia amended its statute to prohibit banishment to any area smaller than a single judicial circuit or to an area that does not have a program that the offender is required to participate in.
Houston County is considered to be the "banishment capital of the state", as evidenced by more than 400 individuals being banned from the county by Former District Attorney Kelly Burke, who stated that he primarily "requires" banishment in drug-related cases. This causes the most commonly cited reason for rejecting banishment --it only shifts offenders to a different area, making them some other county's problem and can cause retaliation from neighboring counties. In some areas, rather than retaliating, the county simply starts banishing offenders as well, as is the case in Bibb County, directly adjacent to Houston County. Additionally, the goal of separating a drug-related offender from his customers or his drug dealer works in theory only -- to an unemployed offender in a new location, selling drugs is most certainly attractive -- fast, easy money with little effort. Similarly, those offenders with an addiction problem cannot be helped with a geographic "cure", making banishment for drug-related cases ineffective, at best (Law Review 803).
"When we banish individuals, we banish them from Bibb County and all contiguous counties (all those that touch Bibb County), so that they don't just hop to another county," said Bibb County District Attorney Greg Winters. "Houston County does that as well now -- they realized the dilemma they were putting us in," he continued. "We look at it case by case to see what would be best in each circumstance; banishment is simply one of many conditions that can be placed on an offender."
Banishment is often used in domestic violence cases, as it removes the offender from the victim, usually a woman. Sometimes, protective orders are ineffective because offenders often violate them, sometimes resulting in extreme violence toward the victim; most tragic in these cases are murder/suicides.
In the body of Law Review 803, Robert Potter argues for adoption of a multi-factor approach to banishment in domestic violence cases that would consider several factors when looking at banishment as a condition of probation, including the length of the relationship; multiple incidents of violence; and whether there was a protective order in place when further incidents occurred.
State representative Willie Talton supports banishment in certain cases. "I am pro-banishment, especially when crimes are premeditated and committed toward others," he said. "At some point in time, the court system says 'enough is enough -- if you can't be a good citizen, you should go somewhere else'. I understand that this causes a hardship on the family, but the offender caused this hardship, not the courts and he/she must live with it."
Georgia's banishment law has been in effect since the original constitution of the state of Georgia was drafted in 1777.