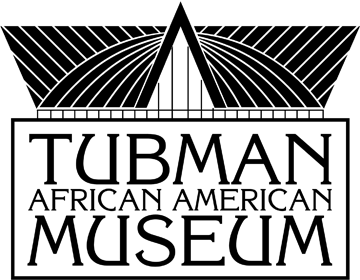 It is the beginning of Black History Month. All month long, Americans will pay tribute to African Americans and the accomplishments they have made as a people. In anticipation of the month long celebration, the Tubman Museum has extended its hours. During the month of February, the museum will extend hours of operation on Saturdays. Visitors may now tour the museum Monday through Saturday from 9:00 a.m. until 5:00 p.m.
The Tubman African American Museum is the largest museum in the southeast dedicated to African American art, history and culture. Here at the Tubman, we celebrate black history every day. Visitors begin their Museum experience with Harriet Tubman: The Moses of Her People.  This exhibition mixes contemporary art from the Museum's collection with archival documents and photographs to tell the compelling story of Harriet Tubman, famed abolitionist, Conductor of the Underground Railroad, and tireless activist for the rights of African Americans and women.
From Africa to America is the signature work in the Museum's collection.  This nine panel mural by local artist Wilfred Stroud chronicles the struggles and triumphs of the African American experience from the earliest African cultural traditions to the election of the first black President of the United States.
The Museum hosts up to six exhibitions each year in its Special Exhibitions Galleries.  These special exhibitions regularly bring internationally renowned art and artists to Macon.
The exhibition called From the Minds of African Americans celebrates the ingenuity and perseverance of African American inventors, whose genius, though for a long time unacknowledged, still improved the quality of daily life for every American.
The diverse selection of items available in the Museum Store makes it the perfect place to fill your educational and gift-giving needs.  Visiting the Museum Store is always free of charge.
Experience the culture today. Visit the Tubman Museum at 340 Walnut St., Macon, Ga. For more information, call 478-743-8544 or visit www.tubmanmuseum.com.
For more information contact Stacie Barrett, Director of Sales and Marketing at 478-743-8544.