Last month, The Discovery Channel's Construction Intervention show ran a 2-part episode that included Freddie Robinson, a Jersey City NJ man's barbershop, Real Deal. The crew of that show went in and totally demolished the barbershop, which had been at that location on Ocean Ave since 1999. It was opened a few doors down 10 years prior in 1989. "The crew came in and totally made us over in 4 days," Robinson states. They then came in and totally remodeled the whole thing."
Salon Interiors took the historical elements of a 1930's barbershop, including a barber pole outside, and blended them in with a 21st century twist. They completed the beauty salon side of the shop with flat screen TV's that are embedded them behind mirrors. When the TV is off, you only see a clean mirror but when turned on it comes through illuminated the mirror.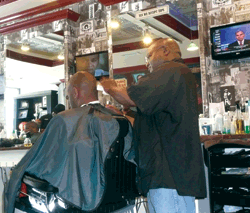 Freddie Robinson utilizes his newly remodeled shop
Robinson is a singer at heart. It's what he does. Throughout the 70's he sang do-wop and soul music as a solo artist and at one point sang with the LTG Exchange in NJ once moving to Jersey City NJ from Greenwood FL. He married Macon GA's Gwendolyn Denson and they started a family there. He then quickly became one of the community's black businessmen. He first opened the barbershop, then, opened a bar, "The Corner Pocket," a few blocks away on Randolf Ave.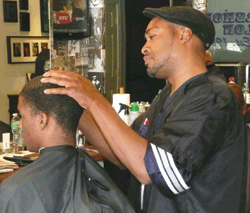 Curtis Rozier, cuts at his pop's shop
A few weeks ago, Robinson was honored with the Small Businessman Award in Jersey City. "These last few weeks have been overwhelming," Freddie states. "I'm still kind of just taking it all in. It's nice to be recognized."
This mural was painted on the main wall at Real Deal
Robinson has always kept his family and community close. He recently sold the bar to his son Jermaine, who is in the middle of renovating it. It will now be called, "The Light Rail Café." Freddie Jr. has been quite successful with music, also taking from his father. He's produced several local acts as well as worked on music of his own. His older son Curtis works by his dad's side at the barbershop. It's definitely a family affair.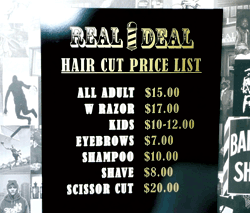 Real Deal Prices
"Business has picked up, we were already doing pretty good but of course with the new look and exposure we've turned some new heads." Robinson exclaims.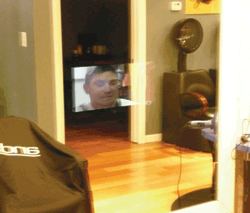 Flatscreen impossed inside mirror in salon
At the end of the day, when you walk in, no matter what's going on, you're going to hear Freddie's soulful voice singing the Manhattan's "Let's Just Kiss and Say Goodbye," The Spinners, "It's A Shame," something from Sam and Dave or Otis Redding while cutting someone's hair. It's business as usual. In the end, that down home soul music is where Freddie Robinson's heart lies.
Real Deal's newly renovated Beauty Salon
© Copyright 2010 by The Informer, Inc.
P.O. Box 564, Macon, • GA 31201 * Ofc:  (478) 745-7265   *  Email:  gainformer@yahoo.com