Prince Picks Las Vegas As His Arena
by Amanda Smith
Once again known as Prince, the mega-pop star that once was known as simply a symbol has landed in Las Vegas, apparently to stay for awhile.  Though at one time he was determined to be as enigmatic and mysterious as possible, he now declares himself to be readily available, having just begun twice weekly performances at his new nightclub there. His two-hour sets include vintage tunes, such as When Doves Cry and Purple Rain as well as songs from his newest release "3121".  Tickets run $125 apiece on nights he appears.

The move seems semi-permanent, at best.  His nightclub, at the Rio hotel/casino is named 3121 after the album and is adjacent to the Asian-themed restaurant run by his personal chef. Organizers have attempted to provide him with the very best in amenities, including a private lounge under the stage accessible by a purple staircase.
Certainly, Prince has joined a growing number of established stars who have made Vegas their arena of choice.  Where else could you find such a constant flow of high-rolling, big spenders in this country?  The Rat Pack (Dean Martin, Frank Sinatra, Sammy Davis, Jr., Peter Lawford & Joey Bishop) reigned there; even Elvis stayed awhile in his later days.
It is a known fact that Las Vegas can make or break a star.  It is anybody's guess what will happen in this case.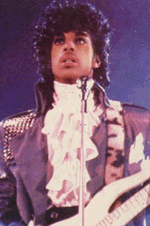 © Copyright 2004 by Georgia Informer, Inc.
P.O. Box 564, Macon, * GA 31201 * Ofc:  478-745-7265   *  Email:  gainformer@yahoo.com