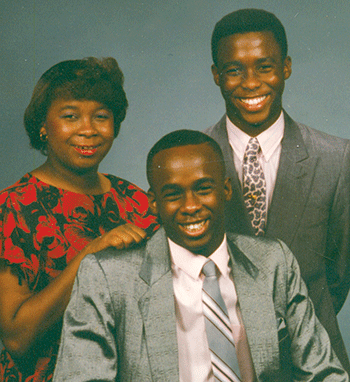 L-R: Deborah, Herbert Jr., and Kenneth Dennard

You never forget the lessons, spoken and unspoken, your mama taught you. That's why it is very important that mothers are conscious of everything they do. Even when it seems like we aren't paying attention or listening to one of the many lectures we get in life, we really are taking it in. My friends often tease me for being prissy, and for that, I blame my mama. For Mother's Day, I thought I would share some of the funny advice my mama taught me that I keep in mind.
Grooming. As I type this, I am ashamed to say that my nails are not done. My mama would be outraged. I was always told that I should always look my best when I walk out of the door. I should always have my earrings in. My nails and hair should always be done. For as long as I can remember, my mama told me that my nails should always be painted. However, if I didn't paint them, I should definitely not have chipped nail polish on them. It was better to have no polish than chipped polish. I remember taking a family portrait with my family years ago. In a photo with my brothers, the photographer directed me to put my hand on my brother's shoulder for the pose. I was mortified because I was wearing chipped nail polish. I knew I would never hear the end of this, so I bent my fingers on my brother's shoulder to avoid my nails being photographed. I also knew that I should keep my feet well-oiled, so I didn't look, as my mama would say, as they needed axle grease on them. If my toenails were not polished, then I shouldn't wear sandals. I thought that was the fashion rule until I started teaching because everyone I knew followed the same rule. Finally, as a child, my mama made sure I had my hair done every two weeks. Every night, until I was old enough, she plaited or rolled my hair and tied it up for bed with me sitting between her knees. (I still know what her knee smells like....what I would give to smell that smell again). She stressed the importance of taking care of my hair. Every night even now, I take care wrap or roll my hair and to tie it up before going to bed. I do it because I know that it is the best thing for my hair, and I do it because my mama told me to do so.
Underwear. Nowadays, I know many people who don't own camisoles, slips, stockings, or girdles. I know I am old school, but I was taught that it is necessary to wear the correct foundation, like black slips under white or light unlined dresses or skirts. My mama told me that people shouldn't be able to see my panty line or legs through what I was wearing. I have been battling the bulge all of my life. Sometimes I win the battle, other times the bulge wins. My mama taught me that regardless of who was winning, that it was always a good thing to wear a girdle to make everything look smooth. I often see other people not following the underwear rule, and think they should have had a lesson from Berdine. Regardless of whether I was winning the battle of the bulge or not, my mama always thought I was beautiful. That means a lot, especially when it comes from the person I believed to be the most beautiful of all.
Where to Find a Man. I have never married. My mama wanted me to find happiness in marrying and perhaps having a couple of children. When she was living, I would often share my dating disasters with her. She told me that men were crazy anyway; however, if I wanted to find one that I had probably overlooked a good place to find one. When I asked her where, she didn't mention the obvious places like church, a club, the grocery store, or the gym. My mama told me and my other single friend who she was talking to at the time that I should go to Lowe's or Home Depot. She told me that every time she went there to get stuff for her flowers that plenty of good looking men were there. They always seemed ready to help her and even flirt, both the ones who worked there as well as the customers. So, she told us to go there to buy something for our house, and to look confused by the complicated stuff. She said that it was attractive to men. She also explained that it made sense to find a good man there. If men were at Lowe's or Home Depot, they either had a house or a job.
As I reminisce and celebrate Mother's Day this year, I think I will unwrap my hair, comb it, put on my makeup and some earrings, get my nails done, put on my girdle and slip with a dress and sandals, and go down to Home Depot and ask about renting a pressure washer (I need to do my deck, and I am certainly confused about how to operate one). Thanks for teaching all of these lessons, Mama! Happy Mother's Day!!!
© Copyright 2014 by The Informer, Inc.
P.O. Box 564, Macon, • GA 31201 * Ofc: 478-745-7265   *  Email: gainformer@yahoo.com