The holidays are upon us, and while this is a time of celebration and joy for many, for me, it is a time of nostalgia. Although my mama is no longer here on earth with us, her spirit lives on in Christmas. She loved the holidays, the shopping, the hustle and bustle of it, the decorating, the cooking, and the gift giving. Berdine Dennard loved it all.
Her generosity knew no bounds. I have very fond memories of watching her make Christmas lists and buying gifts for what seems like every member of the family. This included her husband, children, mother, brothers, sisters, in-laws, nieces, nephews, godchildren, other extended family, co-workers, and friends. Many of her friends were surprised that she still bought her 30 and 40-year old children Christmas gifts. She once told me that her friends spent their money on their grandchildren, but since we hadn't had any children yet, she would continue to spend her money on her own children. Although she was quite generous with us, no one could ever accuse her of being a Scrooge with others. She had a Christmas savings for that very reason. I am proud to say I picked up this habit of hers.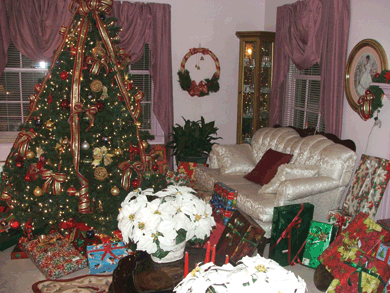 Christmas at the Dennard's 12/07
Some of my fondest memories are of us going shopping after Thanksgiving. My mama really knew how to shop! According to her, there was an art to shopping. A true shopper was to start in the morning and get in two or three hours in the mall before breaking for lunch. We would always leave the mall and go to Olive Garden for soup and salad. After eating lunch, we would go back to the mall or other stores to "shop 'til we drop" for three or four more hours before returning home to wrap gifts. I really miss my shopping partner!
Somehow, even though we had our own houses, Kenney, Roy, or I would get roped into helping decorate our parents' house for Christmas; sometimes it was all of us with different jobs. Roy or my daddy was always responsible for taking all of the decorations out of the attic. Either Roy or Kenney would put the lights up outside. Sometimes mama would do the tree herself; other times, Kenney or I would help put it up. There would always be a great discussion on whether to use a star at the top (Kenney), angel at the top (me), or bow at the top (mama). Everything had to be just perfect. She had bought about five miniature Christmas trees that she would decorate and put in different parts of the house. The Christmas china was put on display in the china cabinet, and the dining room table had a Christmas tablecloth on it. Each window had a candle in it. The candy bowls had Christmas candy in them, which my dog Buster used to run in and steal, and the Whispers, Temptations, Luther Vandross, and Patti LaBelle sang Christmas songs in the background.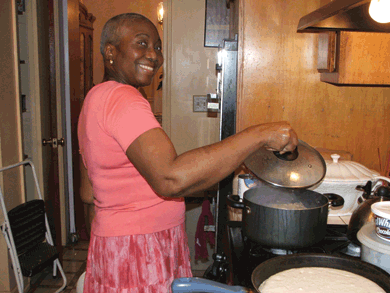 Berdine cooking Christmas dinner on 12/24/07
Every year, she and I would decide on a Christmas menu. We would decide who would cook what, and we would work two days on the dinner. She would always bake the cakes (but she made sure to teach me how to bake them), and I would cook the pies. She would make the meats and collards; I would make the broccoli casserole, potato salad, and macaroni and cheese.
On Christmas Eve, my brothers and I would come back home to spend the night with our parents. Kenney would be assigned to light the luminaries outside with the other neighbors, and I would make hors d'oeuvres. Sometimes we would invite our dates and friends. Together, we would eat, talk, watch Christmas movies, play games, and listen to the Whispers' "Happy Holidays to You" CD. At midnight, we would look in our stockings that we had each stuffed, and open at least one gift. We would go to bed in our old bedrooms and wake up on Christmas with our family. After exchanging gifts, mama would cook us brunch: grits, eggs and cheese, sausage, bacon, and blueberry muffins with juice. After brunch, we would spend a few hours visiting other family members and friends. Whether we would host Christmas dinner at our house for her entire extended family or not, mama would always have Christmas dinner at our house. If the extended family dinner were being hosted somewhere else, we would take a dish that we promised, but we would come back home to eat together as a family. You see, Christmas to my mother was all about giving, and all about family.
Though it is bittersweet, I find myself honoring her memory by doing those things she found important from the giving, shopping, decorating, cooking, and spending the night at my dad's house. Berdine Dillard Dennard may not be with us in body, but her spirit definitely lives on in Christmas.
Parents and spouses, make some great memories with your children and spouses this season. It is something your family will treasure forever. We sure do. Children, spend quality time with your parents. Help in whatever way you can to make the holiday special. Live your lives today, so you will have no regrets tomorrow. I can honestly say I have none. In the words of the late Michael Jackson and the Jackson 5, "Give love on Christmas Day."
© Copyright 2010 by The Informer, Inc.
P.O. Box 564, Macon, • GA 31201 * Ofc:  (478) 745-7265   *  Email:  gainformer@yahoo.com