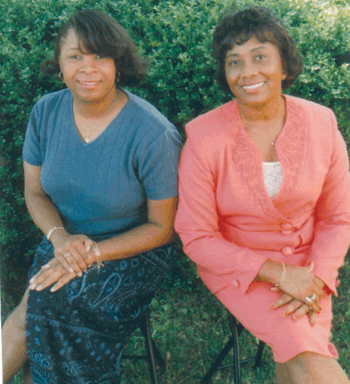 Deborah Dennard with her mother Berdine Dillard Dennard
"To my darling daughter, Debbie, I would like for you to know how very much I love you. I could not have ordered a sweeter child. You were so easy to raise, never gave me a bit of trouble. How many mothers can say that?..."
"...Just know, our time has been priceless. You were always there for me; you spoiled me with gifts; you worked right alongside me in the kitchen; you took me out to eat; you would always let me know when I mouthed off or talked too much (everyone else was scared -- smile); you went with me to all of my chemo sessions. You are everything to me..."
The words above come from the two cherished love letters my mama wrote to me before she died. These words mean so much to me because all I have ever wanted to do all of my life is to make both of my parents proud. These words affirmed that, in her opinion, I did a good job.
May is the month of Mother's Day. Many will go out to the mall and purchase dresses and hats; many will cook or take their mother out to dinner; many will spend time with their mother on that Sunday. All of these are nice, but if your mother is still living, make sure you celebrate by doing things she will remember. Make sure you don't just confine the giving to Mother's Day. The comments in the letter are great suggestions for all mothers.
1. Give your mother material things. Many of our mothers say that it is okay not to buy gifts or spend much on them, but when they receive gifts, they are always so very proud to tell everyone what their children have given them. Not only should you give her gifts for Mother's Day, but you should also shower her with gifts for all of the other special days. Sometimes, you should just pick up a present just because you know it will make her smile. It doesn't have to be an expensive gift, but it should be something in which you have given plenty of thought.
2. Give your mother some quality time. If your mothers are anything like mine was, she cherishes the time spent with her children. Don't just cook or take her out for Mother's Day; make it a routine. Many times, we get caught up in the hustle and bustle of life, but when she's gone, you will always have the memories of those times. Don't just go to her house, but help her cook, run some errands, go to the store for her, help her in the yard, go shopping with her, or plan a vacation with her. Most mothers enjoy all of the fanfare that comes with special holidays, but the daily interaction is truly what means the most for many of them.
3. If your mother is sick, take care of her. When we were children, anytime we bruised ourselves or ran a fever, most of us can say that our mothers took good care of us. When we become adults, it is our time to do the same for our parents. Even if all your mother has is the flu, you should attend to her needs, even if she tells you not to bother. When my mama was going through chemotherapy, she was very moody at times. I remember her fussing at me when I would enter the doctor's office each visit. She asked me, "Why are you here? I can do this by myself. You don't have to keep coming here." I told her that she didn't have to do it by herself because she had me. I took off a couple of hours from work each time she had chemo to sit with her. She fought me every week, but in the end, it meant something to her. She included it in her letter.
4. Don't give your mother unnecessary problems. There are some adult children who do nothing but cause their parents worry. Proverbs 22:6 reads "Train up a child in the way he should go: and when he is old, he will not depart from it." Remember what your parents taught you as a child, and live your life. You should live your life for yourself, but that doesn't mean you can't do that and still give her something to brag on.
I've given you some suggestions for Mother's Day. If you don't use those, just be sure to give your best for Mother's Day and everyday. Happy Mother's Day to all mothers, I hope all of your wishes come true. Happy Mother's Day to my mama, Berdine Dillard Dennard, I love and miss you so much; I will always be proud to say I am your daughter.
© Copyright 2010 by The Informer, Inc.
P.O. Box 564, Macon, • GA 31201 * Ofc:  (478) 745-7265   *  Email:  gainformer@yahoo.com