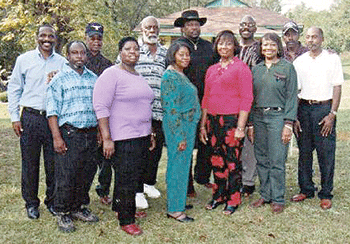 The Dillard Clan
There is an old saying, "when life gives you lemons, make lemonade." Although this is a worn out platitude, it was one of the rules my mama lived by. She was the first born girl in a family where both her parents worked hard to make ends meet. At age eleven, her dad was killed, and her mama was left to raise a house filled with children (My mama had eleven brothers and sisters). As the oldest girl, Berdine grew up overnight and took on much responsibility to help her mother.
Although her childhood was tough at times, my mother often spoke fondly of it. The tough times formed tighter than normal sibling bonds. She and her brothers and sisters were incredibly close. I always loved to hear the stories she and her siblings told when they got together. They would tell stories of going to the spring to get water, about how great the water was, how cold and sweet. They would talk about having to get wood at night for the fire in the morning. They would tell stories about going to the dump, looking for treasures, sneaking in a Mr. Stanley's yard, taking his Haws (Mayhaws), and how they had to share toys and bicycles. They would also talk about coming up during the time of segregation and how they were so proud of finally being able to have equal rights, and the right to vote.
Regardless of their tough times, my mama and her siblings chose to see the positive. It made them stronger and more responsible. Today, all of them are hard workers. Sometimes, I believe my generation has been given so much that we don't work as hard as we should. We need the same work ethic.
In addition, tough times made my mama more compassionate. I was always told that if I saw someone without a friend, then it was my responsibility to be that person's friend, and that I was never to pick at anyone. These are things that must be said to today's children. We are our brother's keepers, and if we would teach that then bullying would not be such an issue. Additionally, I have been told by my mama all of my life that I am responsible for looking out for others who are less fortunate. Once I became an educator, that was drilled even farther home. Teaching was more than just content. I was responsible for influencing lives.
I believe these stories are necessary. One of the reasons I vote in every election is because both my mama and my daddy have told me the stories of the struggle they endured to secure those rights. It is imperative that we share our struggles with our children and today's youth. Although they don't seem to be listening, children really are listening if someone cares enough to talk to them.
The attitude that my mama and her siblings shared has influenced the person I have become. Life doesn't always deal us the best hands. Sometimes we have no good cards, and we have to bluff our way. However, what I have learned from the stories I've heard all of my life is my attitude is what will impact my success and happiness. So, the next time things are not going your way, make a glass of lemonade and enjoy the ride.
© Copyright 2014 by The Informer, Inc.
P.O. Box 564, Macon, • GA 31201 * Ofc: 478-745-7265   *  Email: gainformer@yahoo.com