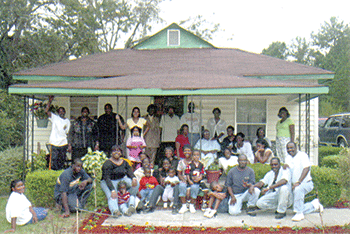 As spring ushers in new life and freshness, I often reminisce in the past, thinking about the good ole days. What I am most aware of is that it is the little things matter most. When all is said and done, we don't cherish what job someone had, how many awards someone received, or what the community thought about our loved ones. What we remember and cherish most of all are the traditions and memories we shared.
Some of my fondest memories are from sitting on my grandmama's front porch listening to her. She had no more than a 7th grade education, but she was one of the smartest people I've ever met. Everyone on her street loved and respected what she thought. In fact, she was once even nicknamed "Ike" because she was respected like the president (Dwight "Ike" Eisenhower). I learned many lessons from her, from baking sweet potato pies to growing a garden to standing up for myself. I even learned great vocabulary lessons from her. I will never forget the day she said the "hot tailed gal down the street needed some saltpeter. She, then, had to tell me what saltpeter was. I was amazed when I googled it to find out that people really did use this to keep down the libido of young people. I miss sitting on the front porch with Muh.
I spent many of these days on the porch with other family members as well. My grandmama's house was the meeting spot. We really did act like the Joseph family from the movie Soul Food. Every Sunday, we would all go to church and would all meet up at her house to talk. We all may not have attended the same church, but the tradition was still the same. I would see my grandmama, my cousins, my aunts and uncles. We would catch up and talk with each other. There was such much love and laughter in that small house. This would also happen for holidays. This tradition of togetherness was one of the building blocks of who I am today. These things don't cost a thing, but they are worth more than any amount of money.
Every time I go to the river walk to exercise, I think of my mama. We took so many walks together. Every time we would get to the end, she would look over her shoulder and tell me to run with her to the top, and she would take off running. Today, I cannot pass that part of the walk without running now. I still hear her voice in my ear, telling me to run to the top. When I run back down, I imagine her there waiting for me as she did, and I give her a high five. I know she isn't really there, but she really is because she is in me, and I still hear her voice.
I become more like her everyday. I find myself doing things she did, dressing as she did, keeping my own self company, dancing around the house by myself, and my daddy even says I fuss like she did. When I am told that I have her mannerisms, I am honored. I also am grateful that I had a great model.
It is very important to take the time to do the small things with people that you love. These small things become the memories we cherish the most. The best things in life are free. As this season of new life is ushered in, reminisce on your good ole days, and be sure that these tradition and memories are passed on.
© Copyright 2015 by The Informer, Inc.
P.O. Box 564, Macon, • GA 31201 * Ofc: 478-745-7265   *  Email: gainformer@yahoo.com