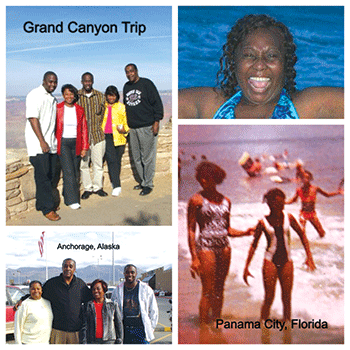 The Dennard Family Vacations
Kenney, Debbie, Roy, Berdine and Herbert Dennard
As a society, so many times, we get so caught up with life that we neglect ourselves. In fact, many of us have become workaholics. We go to work, many times when we are sick. We work hours over, and when we do come home, many times, we bring work home, whether that be physically or mentally. We talk about work at home when we are not on the clock. It consumes us.
In addition to us working all of the time, in many cases, this behavior is transferred to our children because they lead very busy schedules as well. From piano lessons, dance practice, Girl Scout and Boy Scout meetings to basketball practice, cheerleading practice, youth department meetings, kids nowadays are just as busy as adults. This is a never ending cycle because when the kids are adults and their parents are older, the grown kids begin to neglect their aging parents because of the same habits.
One of the greatest lessons I learned from my mama was how to prioritize what was really important...making memories with family. She taught me the importance of working hard to make a living, and being a good steward of the God given job by giving 100% while on the job. However, one of the things I often see missing in my colleagues is the other lesson she taught. My mama taught me that it was also my responsibility to work on family while off the clock. She taught me how to make memories. As summer begins, I reminisce on the memories we made on vacation.
Some of my best memories with my mama happened during the summer when we were on vacation. As a child, every summer, my parents would set aside some money for our family to go on vacation. Some of my fondest memories happened when we were all in a car together driving to Buffalo, New York, to visit my granddaddy, or to Florida to go to Panama City. Instead of the listening to the radio, we would sing songs. On a trip to New York, looking at all of the mountains as we traveled through the various states, I still remember us singing, "The Bear Went over the Mountain." I remember experiencing the ocean for the first time while my mama kept a watchful eye.
As an adult, my mama and I would go on vacations together, just the two of us. We would go to Jekyll Island, on cruises to the Bahamas, to Los Angeles, and many other places. It wasn't until after she passed, that I realized just how much my mama and I traveled together. She was indeed my road dog. One year, my mama and I decided to go on a "Sisters Are Doing It for Ourselves" trip. With this trip, my mama, her sisters, nieces, sister-in-law, and I all went to Myrtle Beach together - No men were allowed. At one point during the trip, we all decided to do karaoke. We brought the house down with our rendition of Aretha Franklin's "Respect." We later went to frolic in the ocean and had the best time together just laughing.
It wasn't just me that she made memories with. My mama would go on vacations with my daddy, with her sisters and brothers, with her church family, and with her friends. Sometimes it would be just a shopping trip to Tanger Outlet, or a day trip to Savannah, and other times, it was a trip to Atlantic City or New York. The last year that she lived, my mama took a vacation with my daddy, my brothers and I to Las Vegas and the Grand Canyon. It had been years since the entire family had spent time like that together, and I am eternally grateful for it.
One of the greatest lessons I learned from my mama was that in addition to working hard, that it is vitally important to play hard, and to do so with the ones you love. As the summer begins, take a page out of my mama's play book. Make memories with your children. If you are an adult with aging parents, spend some time with your parents. When we are long gone from this world, memories of the time we spend with our loved ones will be what is remembered. Be intentional in the memories you make.
© Copyright 2014 by The Informer, Inc.
P.O. Box 564, Macon, • GA 31201 * Ofc: 478-745-7265   *  Email: gainformer@yahoo.com