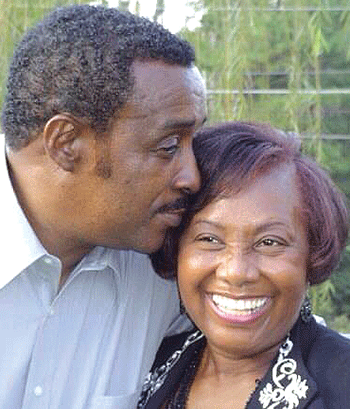 Herbert and Berdine Dennard

I was married to the closest thing to an angel that I have ever known. However, Berdine was not perfect, and I certainly wasn't; therefore, our marriage wasn't perfect, but it was the best thing that ever happened to me. Marriage is hard work, and we surely had our share of arguments and disagreements. Nonetheless, the most important thing is we were committed to being committed, even when we didn't feel like it.
Berdine loved music. She loved Smokey Robinson, Regina Belle, Stephanie Mills, Deniece Williams, The Whispers, The O'Jays, Joe, and anything Motown. One of Berdine's favorite singers was Al Green. The lyrics from his 1972 hit, "Let's Stay Together," capture the essence of our almost 42 years of marriage. In this song, Al Green sings, "Let's stay together, loving you whether times are good or bad, happy or sad."
This song so perfectly describes what we had because marriage is about sticking it out in the good times and the bad times, the happy times as well as the sad times. In this column, my family has shared many of the happy times with Berdine, but this month, I would like to help some married couples by being transparent and sharing some of our bad times as proof that things can work out.
As I reflect back on our marriage, I remember once I made Berdine so mad that she moved out of our bedroom for two weeks. Another argument resulted in me leaving the bedroom for a week. But the good thing about our disagreements was that neither of us was ever angry for more than two weeks and when we were mad, we were still civil - no poked out lips or cutting remarks. Then someone would give in and we would make up (it was usually me).
Berdine and I came from totally different backgrounds. I was raised by a domineering father who was also raised by domineering men. They were men's men, and what they said went. Everybody obeyed them, the wives, the children, and even the pets. Berdine, however, was raised by her widowed, independent mother. Her mother was strong, could take care of herself and all of her twelve children, and didn't put up with any mess from anyone. She used her shotgun to slaughter hogs, shoot snakes, and if need be, protect her household. So when Berdine and I merged ourselves in marriage, we had huge adjustments to make.
Admittedly, there are rough spots in every marriage and ours was no different. There is one incident that I remember that got out of hand. I ordered Berdine to do something; she informed me that I wasn't her Daddy and I couldn't tell her what to do. Then I did something that I am not proud of, and to this day, I regret doing. I slapped her. In turn, she charged me, hitting me, and throwing things. This was not my proudest moment. I was not very strong. The sign of a weak man is one who chooses to settle a dispute with his hands, not his words or heart. I never hit her again. Looking back on it, I now understand that we both were emulating our parents. Because I wanted a relationship where we both were equal partners, I had to abandon the example I had of manhood and marriage, and together, Berdine and I created our own version we wanted of marriage.
We forgave each other and moved on because it is selfish to give up at the first sign of trouble, particularly if you're raising children. When two people join in marriage, they are entering into a covenant with each other and with God, of their own free will; it's not usually at the barrel end of a shotgun. And when your spouse does something wrong, you should be willing to forgive, as Paul has instructed in Colossians 3:13: "Bear with each other and forgive one another if any of you has a grievance against someone. Forgive as the Lord forgave you." I am not advocating someone stay in a relationship that is dangerous or if there are addictions that are destroying the home, but this was not the case here and is usually not the case in divorce.
Today, people enter into marriage full of romantic love - they don't realize that this type of love doesn't last; it never does. These "romantics" become disillusioned when the feelings fade, and they are ready to call it quits and move on to the next romance. But romantic love deepens into a more stable, longer-lasting love, given the chance. When I married Berdine, it was a covenant before God, 'til death do we part' and both of us honored that promise. Our love deepened into an unbreakable bond - not only did we love each other, but we actually liked each other. More importantly, we also realized that biblical love is an action, not a feeling. We made the decision to love each other, no matter what the other person did.
When I look back at my life, I realize that Berdine was the best thing that ever happened to me. I think of all the good times and laughter I would have missed had I been ready to bail out when the going got rough. She was a terrific wife and mother who truly created a loving home for me and my children. All the birthdays and Christmases; all the vacations; all the dinners around the table - none of it would have been possible if one of us had given up on the other. I can say that my years with Berdine were truly blessed because we chose to tough it out. We were committed to being committed. We stayed together, loving each other whether times were good or bad, happy or sad.
© Copyright 2014 by The Informer, Inc.
P.O. Box 564, Macon, • GA 31201 * Ofc: 478-745-7265   *  Email: gainformer@yahoo.com