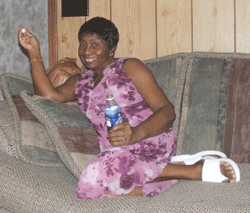 Some lessons are better taught when they are unspoken, but by example. But when they are both spoken and shown by example, the point is really driven home.
I've always been a bit junky. My mother hated it. I keep dishes in the sink, hamper full of dirty clothes, socks in the middle of the floor, shoes wherever I pull them off. My brother became junky after he got older, but me, I was born that way.
The infamous letter that I often refer to that my mother wrote to me on her deathbed had a reference to that. She was short and straight to the point. "Work on being less junkie." She said.
When my mom was alive, I didn't need to look far to see someone that kept her house in order. I mean everything, from a healthy way of living to literally keeping the house neat and tidy. She would have someone lay new carpet on the floor years before I thought it was needed. She would have her oil changed in the car as soon as another 3,000 miles were put on it. Just as March rolled around, she was already out in the yard planting flowers for the spring and summer. She knew which ones to place where. Rather it was summer flowers or spring flowers. She knew which ones needed more water and which ones could make it on very little.
My mom often came and peaked in my room when I lived in the same house and said, "I don't see how you sit in here, how do you even think in such mess?" To her, being able to think healthy thoughts and make solid decisions all started with a neat house and environment.
The same train of thought went into the way she ate. I have a hard time with this as well. I eat when I think about it. Then I eat whatever is near. But my mom would get up in the morning and before she did anything else, eat a healthy breakfast. She would start off with cornflakes or Raisin Bran and Skim Milk with a piece of wheat toast on the side and maybe pieces of cantaloupe or honeydew melon.
Then she would exercise. Rather it be walking down at the river walk in Macon, going to the Health Club or turning on some music and exercising in her bedroom. She was determined to stay in shape and not get overweight.
I've been reading a lot about diabetes this month. Although a great deal of the causes of diabetes is genetics, a lot of it also comes from a healthy way of living, including diet and exercise.
All of this is difficult for me to maintain because I'm a bit set in my ways. But the older I get, the more I look at my mother's way of life as an example. You have to keep your house in order. You have to maintain healthy lifestyles from eating, drinking, cleanliness as well as your thought process and the way you talk.
The small picture is looking good on the outside for others. The big picture is feeling good on the inside and staying healthy as well as portraying that to others. There are certain diseases that are not preventive. But there are ways to keep others percentages of entering your body down. The diagnosis is simple. You have to keep your house in order.
© Copyright 2012 by The Informer, Inc.
P.O. Box 564, Macon, • GA 31201 * Ofc:  478-745-7265   *  Email:  gainformer@yahoo.com