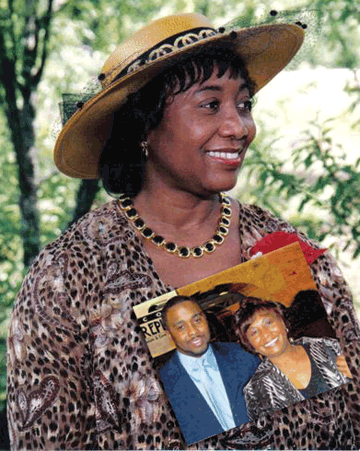 Berdine Dennard and Kenney Dennard
I remember a comment someone made to me after my mother's funeral three years ago, as many people came around to greet me and my family.  I do not remember who said it.  A lot about that day is a blur.  But I remember as he passed, he looked me in the eye and said, "I'm sorry. This is really going to make you grow up fast." I smiled and said, "Yeah," wondering what the heck this guy meant. I mean, I was a grown man then. In fact, I was a grown, grown man.  I was in my thirties, I had been off on my own over 10 years.  I had a good job, had owned my own house twice at that point, had finished college and in fact, lived in a totally different state on my own.  My mom and most of my family lived in GA while I lived in NJ. 
So, what the heck could this guy have meant?
Recently, that memory surfaced back into my mind. I went through something I had not gone through in a while. I had a couple weeks when it seemed like no matter what I did, I couldn't win. Have you ever had a chain of events in a short period of time to happen to you making it seem like nothing you can do turns out right?  In fact, it turns out very wrong. I'll never forget the time I had one of those periods long ago. My mom, who rarely cursed, said to me, "Boy, it seems like everything you touch turns to s***." 
For example, I've had times when my car broke down in the middle of the interstate in the middle of the night, times when I was driving on a spare and then I'm out miles away from home and the spare goes flat, times when I already seem to owe everybody, then on top of that I get stopped by the police and arrested for something like a driving on a suspended license.  I once crashed into a car in front of me, he crashed into the car in front of him who crashed into the car in front of him.  I got out to see if anyone had hit me first.  Nope. I was the culprit who started it all. I once bought a video camera for 350 dollars and misplaced and had it stolen the same day I bought it. You think some of those are pretty bad. Try having them all happen within a week or two.
I would feel like absolute garbage. My mom would always help me figure it out.  Most times it all came down to the same thing.  I would have lost touch with God. My mom would ask me, "Have you been praying? Are you getting on your knees and really talking to God? Are you going to church? Have you been reading your Bible? Are you paying you tithes and offerings?" For the most part during those days, the answer to each question was no.  
I can recall my sister saying to me long ago, "God doesn't let his children stray away too far.  If you grew up into church and into the Word as we did, and you began to stray away, God's going to give you a spanking in life to get you back in order."  I had a few of those spankings. I've had times where I seemed to be so low all I could do is look up to God and pray.
With my mom's prayers and talks though, it wouldn't be long before that dark cloud would clear up and get out of my life.  My mother prayed for me harder than I prayed for myself.  She used to tell me, "Boy, your prayers ain't reaching the ceiling. You got to really get into the spirit."
So recently, as it seemed I had another dark cloud trailing me in my life, and with Mother's Day around the corner, I couldn't help but miss my mother.  Now it's up to me to put things in perspective; figure out what's going wrong in my life.  I still have those years of advice ringing in my head.  "Get on your knees and pray; get into the spirit!"
I'm not absolutely sure what the man at the funeral meant when he told me I was forced to grow up fast.  But when I think about it, that's how I feel.  My mother's no longer here.  I am left to make better, more mature decisions.  I have to pray harder, longer and more.  I have to get back into the church, reading the Bible and paying my tithes and offerings.  But mostly, I have to grow in Christ, becoming a grown, Christian, praying man.
I often reminisce of the many things I miss about my mother.  I miss her love, I miss her sense of humor, I miss her cooking, and I really miss our late night talks. But the one huge thing I miss is her prayers.  I've often said there's nothing like a mother's love.  But there's also nothing like a mother's prayer.
© Copyright 2012 by The Informer, Inc.
P.O. Box 564, Macon, • GA 31201 * Ofc:  478-745-7265   *  Email:  gainformer@yahoo.com