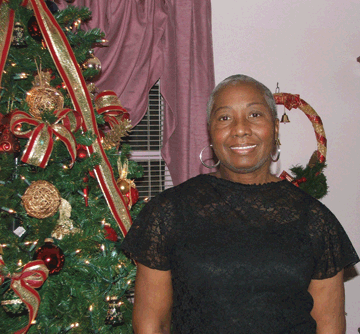 Berdine Dillard Dennard

I have many fond memories of Christmas as a little child. My parents always made the holidays special. From the time my dad played Santa and warned us if we peeked out the room Christmas Eve night or looked out the window that Santa would spit in our eyes to the year my mom told me she couldn't afford to get the biggest present on my wish list, yet she bought it and put my father's name on the huge box, so I wouldn't even think to shake it; there are many, many fond memories. But as I look back I realize the key factor of all those fond memories was the togetherness of my family.
One Christmas where this stands out to me most was the year we moved into our house on McCall Cir. This was in 1990. I was 15 years old. My mom had come to my father a few months earlier and told him that she wasn't happy with the living conditions of the house we were in before and she had always dreamed of living in a bigger house. Though my dad had been comfortable where we were, he got on the phone with his good friend Mr. Albert Billingslea who built and sold houses. The very next day they were all in our kitchen looking over floor plans for new houses. Within a year, we were in a brand new, freshly built house.
It's hard for me to believe now, but I was actually mad. You see, my dog Scrappy and I liked that old neighborhood and all the people and things in it. However, we both reluctantly followed the family. Scrappy would run away almost daily to the old neighborhood and under the house of the new owners of our old home. It took a while for him to understand they weren't trespassers, he actually was now.
Anyway, we moved into the new house in late June. By December, we were just beginning to get used to the new surroundings.
Our first Christmas in the new house was special. We actually had a fireplace. We had a living room that was actually decent enough to have guests in. We had a fireplace. My mom went out and bought Christmas Stockings and introduced stocking stuffers to us. She put each of our names on individual stockings and hung them up on Christmas Eve night. She, then, instructed us to all go and buy nice nick knacks for one another for the stockings. We would all be able to go into our stockings at midnight and open one present. Christmas Eve my entire family ran around town doing last minute shopping and stopping by grocery stores and drug stores for stocking stuffers. This was one of the first years that all of us children had our own money and were able to buy real gifts.
Dennard Home at Christmas
That night as we filtered in one by one, my mom was busy baking cakes and pies as well as preparing dinner for the next day. She frosted her famous Red Velvet Cake with cream cheese frosting with pecans. She baked pecan, coconut, and sweet potato pies as well as pound cake as she played her favorite Christmas album, "Happy Holidays to You" by the Whispers.
By 10 p.m., the entire family was there including other guests such as a couple of her brothers and sisters and a few of our cousins and friends. At midnight, we gathered into the living room and went into our stockings. Colognes, toothbrushes, deodorant, gum, lipstick, gloves, underwear, shaving cream, CD's, candy bars, shampoos and all types of other goodies were inside. We, then, all opened one gift as we sat around and laughed and joked and just enjoyed each other. It was a good feeling.
That Christmas was special on many different levels. My mom had 11 siblings. Until that year, the 12 of them had never actually stood at the same place at the same time on Christmas, or at least no one recalled doing so. The oldest sibling was over 20 years older than the youngest. For some reason, my two uncles who rarely came home were there that year. So on Christmas day, my mother and all of her siblings congregated at my grandmother's house for even more good times.
Although the true meaning of Christmas should never be lost in the many traditions we have for the holiday, some of those traditions, such as coming together as a family should continue to be upheld. As time passes, we all get older and grow away from one another. Christmas is a time for family. It's a time that we should forget our differences for at least that one day and come together and just enjoy each other for who we are.
We went on to carry out that tradition for many more years. Each year that my mother was alive, no matter if I was living in NYC or NJ, I found my way home. In fact, as adults, my sister, brother, and I would come home every year to spend Christmas night, so we would all be together. My mother had a way of making sure we were going to be there. She told me I needed to be around to fill the bags with sand for the candles in front of the house. On Christmas Eve, I could be en route, driving through Charlotte or Greenville or where ever. My mom would call me and say "Boy you need to get here before dark now, so you can fill these bags." Another year she bought us a dart board and we all, immediate family and extended family, played darts all through the night for the next few weeks.
Berdine Dennard had her own way of bringing us together. Try to bring your family together for the holidays. Merry Christmas!
© Copyright 2012 by The Informer, Inc.
P.O. Box 564, Macon, • GA 31201 * Ofc:  478-745-7265   *  Email:  gainformer@yahoo.com