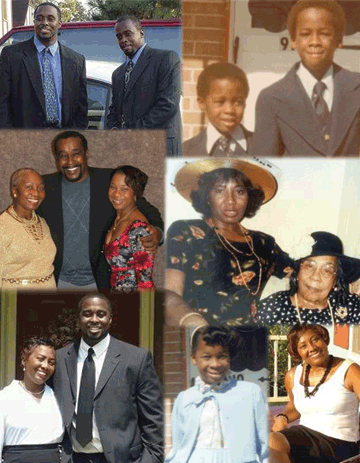 Sundays After Church Through The Years
I will never forget one Sunday afternoon in the mid 90's. My extended family used to all meet at my grandmother, Ethel Dillard's house to talk, laugh and sometimes eat after church. This Sunday, as my mama pulled into my grandma's driveway, a song came on the radio that caught my grandma's attention. Now, I had never heard my grandmother really listening to anything but gospel music in my lifetime. This wasn''t gospel. She paused in the middle of her conversation with my mama, turned up the radio, and said in her southern twang, "Laaawd I ain't hud this in yeahs!" Shocked me something crazy! I listened closer and for the first time heard Etta James singing "Sunday Kind of Love."
As the three of us sat listening to the song, I had to ask, "Muh, (Our nickname for our grandmother) why does she want a Sunday love in particular? What's so special about Sunday?"
To that, my grandmama responded, "Because Sunday's are special. You didn't really know what you meant to a man until and unless he came to visit you on Sunday." She went on to say, "Guys would take women out all week long but if they didn't come see you on Sunday, you didn't mean anything to them. Sunday was the day everyone was home, your extended family. Everyone would sit out on the porch or in the yard. If that man came out and sat with you and spent the day with you, you really meant something to him. A lot of those gals that had hung out in these night spots all week sat home by themselves on Sunday."
Sunday's are special. It is the day that I was raised to believe is the Sabbath. Growing up as a child, my mother got us up early on Sunday morning to go to Sunday School, BTU and to church service. We rarely skipped a Sunday. She told me years later that when my brother got sick and almost died as a little boy, she had cried to God to save him. She said she prayed that if my brother would pull through, she would place all of her children in God's hands, taking us to church every Sunday. My brother woke right up out of his coma and asked for a hamburger. It was a miracle. My mama kept her promise.
She took it a bit further. One of the Ten Commandments states, "Remember the Sabbath Day, Keep it Holy." My brother, sister and I were not allowed to do any hard labor on Sunday which none of us complained about. No cutting grass, no washing cars, no mopping floors. It did mean we had to have it all done on Saturday though. But my mama stressed, "Sunday is the Lord's Day." We focused on worship, family and fellowship.
We would start off the day with a big breakfast on Sunday mornings. We all had to come to the table and eat together. As we ate the breakfast she had prepared, she started on dinner for after church. We all, then, got dressed. We were not allowed to wear anything less than a full suit to church while my sister got spiffy in her full dresses. Sunday's were special.
By Sunday evening, after spending an hour or so at my grandmother's, my mom would come home and finish dinner. By now, my dad would be home from work. As the food got nearly done, he would sit at the head of the table and bark orders. "Kenney! Make us some Kool Aid! Debbie, help your mama with that! Roy! Set the table!" Then we would all sit down together, say grace and eat. Once the food started going around, my dad would start quizzing us about church. "Kenney! I was hard at work trying to put food on the table, so I missed church. What did the preacher preach about?" This was no joke either. My sister actually took notes in church to report back.
I remember as a teenager starting to rebel. I wanted to start wearing casual clothes to church. I once asked my uncle, David Dillard, why must we wear suits to church. Why can't we wear jeans? After all, God should accept us as we are. He sharply responded, "You should want to present your best to God! Church is sacred. You don't get comfortable. You bring your best in offerings and present yourself at your best to the Lord."
As I got older and members of my family passed on, I somehow slowed up in my going to church on Sundays and most of those traditions. But at times it startles me when it hits me. For one, no matter where I am, Sundays just feel different. There is something peaceful in the air. One Sunday while living in New Jersey, I went downtown Newark for something. As I walked down Market Street, one of the main strips, I just felt downright bad. It hit me that most people didn't have the experiences I had. Most could care less about going to church on Sunday. Barber shops, tattoo shops, beauty parlors and clothing stores were open. City buses ran. Drunks, drug addicts, pimps, prostitutes and pick pockets rushed up and down the streets with loud music banging out of speakers on the street. I felt like I was in hell. This was an eye opener for me. I want a Sunday Kind of love.
I want what Etta James was singing about. Any other day won't do. I loved the peacefulness of Sunday. I loved the fellowshipping with family on Sundays. I'm still single. Without even consciously thinking about it, I know I want a woman with that old school Sunday spirit. I want to take it back to the days of my youth. I want a Sunday Kind of Love.
© Copyright 2012 by The Informer, Inc.
P.O. Box 564, Macon, • GA 31201 * Ofc:  478-745-7265   *  Email:  gainformer@yahoo.com