As Black History Month rolls around again, I have continued to attempt to talk to my peers and more importantly, the upcoming generation about the importance of knowing and sharing our ancestors, roots and history. As time goes on, I'm saddened when I talk to people in their twenties and younger that know very little about things that I thought everyone knew. It gets worse and worse each year.
After writing an editorial last month about the importance of remembering Dr Martin Luther King Jr., I gave it to a 24 year old to read and he told me he thought it was a good article. I, then, asked him what he knew about Dr. King. I got a blank look and little of nothing as a response. I asked him if he could quote any lines from Dr. King's speeches, and he said no.
This has really bothered me for the last few weeks, and I've been really thankful for my upbringing and those around me that would not let me come up not knowing my history. My parents were VERY instrumental in teaching me and my siblings about the history of our people in this country.
My father was always out in the community helping to organize marches and creating King Day programs, leading by example.
My mother was home when we got out of school, making sure we studied and going over our homework. I can remember specifically going through my history books as an 11-12 year old with my mother and she not being satisfied with the amount of Black History within them. At one point she pulled out Black History books that we had on our personal bookshelves and began pointing out leaders, asking me who this person and that person was.
To this day I remember one of my first and favorite books as a child. It's called, "The Value of Courage, The Story of Jackie Robinson," and is a child's book about Jackie Robinson. As a 5-6 year old, I used to love for my mother to read that to me as she pointed out the pictures of Jackie Robinson and his rag ball. She would go further and sing the song that she said they sang about Jackie when she was a child. It went, "Did you see Jackie Robinson hit that ball? He hit it a thousand miles!"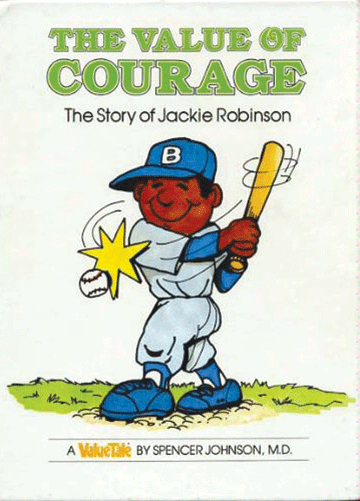 Why is it that most of our younger generation knows so little about Black History? I believe it's mostly because parents and adults close to the youth do not talk to them about our precious history. Too much focus is on sports and entertainment and not enough on politics and history. This is the blueprint for a race of people to end up repeating history.
There are many distractions today. It's so easy to just send a child outside or to their room and let them play Wii or Xbox or play games on the computer or iPad to keep them quiet a couple hours, so you can get some peace and quiet. In the long term though, it hurts everyone.
My mother realized that the school system has never devoted adequate time to African American History. She saw that the history books said little about our history other than Martin Luther King. She told me once that when she was in school all they taught was Frederick Douglass. Much is the same today. Other historians such as Malcolm X, Medgar Evers, Nat Turner, Marcus Garvey, Madam CJ Walker, Benjamin Banker and others are mentioned very little or not at all.
We cannot rely on another race of people to teach our children black history correctly. We must all do our part in teaching our kids and those children around us the history of our people ourselves. Berdine Dennard did her part. Will you do yours?
© Copyright 2012 by The Informer, Inc.
P.O. Box 564, Macon, • GA 31201 * Ofc:  478-745-7265   *  Email:  gainformer@yahoo.com