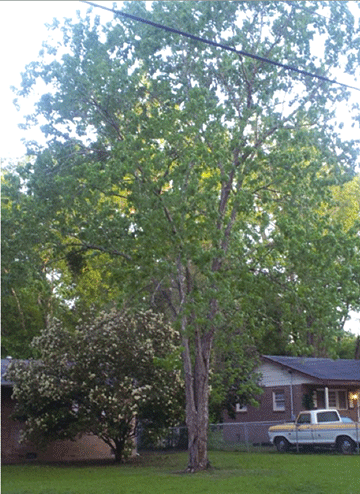 When I was a child I was constantly being taught various lessons. Even when my mother wasn't purposely trying, she was teaching me lessons, many of which I understood more after she passed.
When I was about 9 years old, my mom and I went to the seed and feed store on Jeffersonville Rd in Macon and bought a tree. It was merely a stick with a large root at the bottom. It was not much taller than me. We went home and the two of us planted it in the middle of our yard on Perry Drive together. After it was planted she looked across the street and saw this huge tree and said, "Kenney, one day this tree will be as big as that one. I'll be dead and gone and you are gonna be able to look at this tree and say me and my mama planted that tree when I was a little boy."
I could hardly believe that because at the time it merely looked like a stick in the ground. But my mom assured me that if she took care of it right now and properly watered it and nourished it that it would grow into a beautiful tree.
We both went on about our lives but as I would go back and forth to school and pass the tree I noticed as years went by that it grew branches and leaves and began to grow a little. My mom began to work on other projects in the yard as well such as hedges and flowers. She even started a garden in the back yard with tomatoes and squash as well as turnips, collards and peppers.
She loved that garden and would be very upset if we stepped in it even if it was by mistake which sometimes happened as we lost control of our basketball and it flew into it.

We must have stayed in that house another 5-6 years before moving. I grew from teenager to young adult on McCall Cir. I was the youngest child so I probably got more one on one time with my mother as a teenager. At the time I wasn't incredibly grateful for it but looking back, she was probably there when I really needed her most. She became president of my PTA when I was in high school so she came around more than I would have preferred.
Although my mom was around more she didn't lecture and scold me as much as I feared when my brother and sister left for college. She had begun working at the Sheriffs Department, she sold Avon, at one point she sold water purifiers, she did PTA and she also spent a lot of time working in our new yard. She lived a happy, productive life all the way up until it was cut short by Cancer 4 1/2 years ago.
A few months ago I drove back home to Macon and because I had time I drove by the old house on Perry Drive. I saw this beautiful tree in the front yard of the house I grew up in and had to stop the car in the middle of the street to stare at it in amazement. Suddenly, that conversation that I had with my mother as a nine year old came back to me.
Just as my mother, Berdine Dennard had properly put me in a safe environment and properly nourished and watched me as a young child, then stepped away and let nature take its course, she had succeeded in growing a beautiful tree for the neighborhood.
For most of my life, my mom planted seeds of value, hope, confidence and inspiration in my soul, which has made me into the man I am today. While she was at it, we planted a tree.
© Copyright 2012 by The Informer, Inc.
P.O. Box 564, Macon, • GA 31201 * Ofc:  478-745-7265   *  Email:  gainformer@yahoo.com