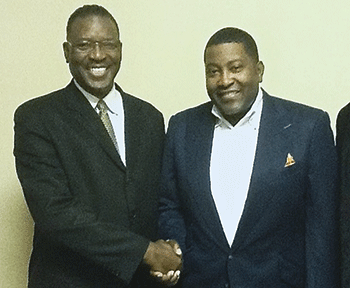 Dr. Henry Ficklin and Dr. E. Dewey Smith, Jr.
A God Dream: Recognizing How To Maximize God's Will and Minimize Your Wish by E. Dewey Smith
Amazingly inspirational, religiously inquisitorial and spiritually foundational is this powerful soul reinvigorating book of Dr. E. Dewey Smith, Jr. His new work can easily be described as "the missing link" for souls honestly seeking the correct message from God in their lives. Using dreams as a hook, (all of mankind must experience what psychologist call REM sleep to dream for their well being), the author very carefully unfolds the familiar Bible story of Joseph in the Book of Genesis. He is very skilled at intertwining his analogy of Joseph's dream with wisdom, lessons from his own life and sound spiritual advice to help the reader on life's journey.
The author uses Biblical examples spiced with scriptural references in his well thought-out narrative, as well as modern day icons, such as, Dr. Martin Luther King, Jr., and ordinary people who wrestled with understanding their dreams. His objective is beautifully and tenderly made to the reader that all dreams are not God dreams. He sends the reader on a search of soul and self to discern what it is that God has revealed for him or her in life. This book provokes a conscientious inventory of the reader's desires or wishes aligned with the design of God for the life of his servant.
A very difficult phenomenon that has mystified philosophers, poets, scientists and many others for centuries, Dr. E. Dewey Smith, Jr. uses a divine dexterity to prosperously define and dispense deliverance to torn souls about the meaning of their dreams. He guides the reader through the vicissitudes of Joseph's dream, always reminding that there is a lesson in each situation, until finally reaching the point of success and decision. This book is truly a blessing to the genre of Christian books and their readers.
Particularly liked is the way the author revisits what should be our Christian social consciousness, stating that there is a "loss of realness" and lifts up a "go and check on your brother" list. This is really the kind of book that my father would have kept in the back pocket of his overall to read again and again until the paper back cover was unattached from the book and he had to use a rubber band to hold it together. A God Dream is a stimulating read that recalls to me Jeremiah 29:11 "For I know the plans I have for you," says the Lord. "They are plans for good and not for disaster, to give you a future and a hope" (NLT).