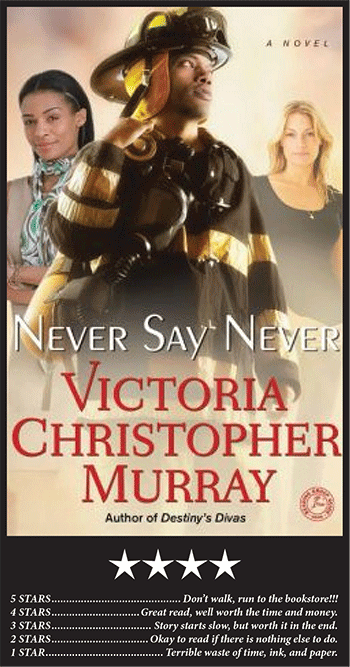 What's worse? Your husband betraying your trust, or your best friend betraying your trust? What if both betrayed your trust by sleeping together? What occurs to cause one to cross the line? Is there ever an excuse for this behavior? Victoria Christopher Murray tackles the tough topic of infidelity in her emotionally charged, page-turning book.
Never Say Never tells the riveting story of a love triangle. In the book, Miriam, Emily, and Michellelee, college roommates, are the best of friends. Two of the friends, Miriam and Emily are married to best friends, Chauncey and Jamal who are fire fighters.
This story begins with a fire at a local school. Both Chauncey and Jamal go to the fire. Some children are harmed, a few died, and when the fire is over, Chauncey is dead, and everything forever changes. Miriam is devastated and is unsure of how to survive such a terrible loss, as well has how to stay strong enough for her children. Jamal, while devastated for his own loss of his best friend, takes on the duty of helping Miriam with supporting the children and making funeral arrangements. Emily, a licensed child psychologist, tries to balance working with the children survivors of the fire and dealing with both her husband and best friend's loss of Chauncey. Eventually, Miriam and Jamal lean on each other. Both never intend on hurting Emily; they just want to stop the hurting, the emptiness, and grief. Instead of turning to Emily, they turn away from her and cross the point of no return in each other's arms, leading to a catastrophic love triangle and the destruction of the lives of them all.
In Never Say Never, Murray does a great job of addressing universal themes such as friendship, betrayal, and infidelity. She weaves a story that takes the reader on an emotional roller coaster with lows of the grief of losing a man that meant everything to his wife, children, and best friend, the curves of having inappropriate feelings for someone who doesn't belong to you, and the climax of getting caught before plummeting to pick up the pieces of life after betrayal.
Murray builds the storyline to the climax with such ease that reader truly feels as if he or she is there. The descriptions in the book are so vivid that when the moment of betrayal was revealed, I had to put the book down for a day because of the pending pain I knew would be felt by Emily. Murray also dealt with Miriam in such a way, that the reader still roots for her happiness.
While the book was an excellent read, it was incredibly predictable. On the first page of the book, Miriam tells the readers that she had an affair with her best friend's husband. Therefore, throughout the book, it was clear Jamal and Miriam would be caught, and it was clear how the story would end (I won't spoil it for you). It would have been much better had the affair been a surprise.
Once again, Victoria Christopher Murray has a hit. Other terrific books by her include the Jasmine series (Temptation, A Sin and A Shame, Too Little, Too Late, Lady Jasmine, Sins of the Mother, Scandalous, Friends and Foes with ReShonda Tate Billingsley, and Fortune and Fame with ReShonda Tate Billinsley).