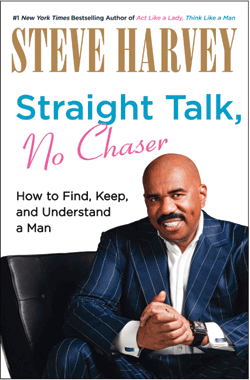 "When you give love – and never get love - You'd better let love depart"……..(Since I Fell For You)
 
I have just finished reading Steve Harvey's new book, "Straight Talk, No Chaser".  Ironically as I was reading the book , the song Since I Fell For You came on the radio - and I realized that the above lyrics seem to be the premise of both his present book and past book "Act Like A Lady, Think Like a Man".
Both of Steve Harvey's books definitely make us women think about what we want from a man and how we go about getting it and most importantly what we deserve in a relationship. 
The first half of Steve's present book is basically a carryover of the first in that he continues his discussion of the three things (The 3 P's as Steve calls them) that a man will do if he truly loves you: "profess his love for you publicly, protect you by any means necessary, and provide for you if it means there is nothing left for himself."  But the crux of this book is the big "C" word: Commitment.  According to Steve,  finding commitment begins and ends with us ladies.  We have the right to ask for it and the right to walk away if we don't get it...and he stresses that we should do just that if we don't get what we want and need out of our relationship... "Walk.  Away.  Fast." In essence -- again according to Steve -- men won't commit if they don't have to -- but if they know there are consequences if they don't commit -- and they truly love you -- they will commit.  "A man who wants you will jump through hoops of fire with buckets of gasoline tied to his waist if he loves you and you make clear to him that you need a firm commitment from him." In regards to walking away -- Easy to say?  Hard to do?  Yes, for some of us.  But after reading this book, you might just benefit from this man's words of advice on these subjects because he definitely does tell it straight to the core!
The second half of "Straight Talk, No Chaser" actually had some great advice for couples dealing with subjects such as Money Problems, How to Keep a Man, How to Get What you Want Without Nagging, and even some special advice for the man in your life -- the Ten Commandments of Pleasing a Woman.   But that is what I found puzzling -- why he did not write a separate book based on his advice for couples – because the second half is a wonderful tool with excellent advice for those in a committed relationship.  Unfortunately, (based on the first half of the book) I can guarantee you that most men probably won't buy this or give this book to you wrapped as a pretty gift in a big red bow.  In fact, if they had the money -- they would probably buy every one of those books and take them off the shelf and put them where the sun don't shine!  Even Steve stated in his book:  "I can bet you my bottom dollar that even if I were to give this book away, I could count on one hand the number of men likely to pick up a book about how to better get along with women... and he definitely doesn't want to hear me telling him what to do, not after the way I gave away the playbook in Act Like A Lady, Think Like A Man."  I tend to agree with him.  I honestly can't see my man running out and reading this book.  As for me, I loved it! 
Also in the second half Steve answers some questions we all want to know such as: If a Man Brings Me Around His Friends Does That Mean He is Really Into Me?, What is a Man's Idea of a Good Woman?, Why Do Men Become Such a Bore After Marriage? and many more. 
Will men buy this for their daughters? -- Oh, Absolutely! And just maybe some men will buy one for their wives to read or even their committed ladies -- so if you do receive one from your man -- ladies he's a keeper -- because he is happy and proud of the way he treats you!  I would highly recommend this book to you ladies out there (and you men too -- but I bet you'll never read it!)   It is filled with excellent advice which I hope to use in conjunction with some of my own New Year's Resolutions.  There are a lot of good books out there on relationship advice -- this is definitely one of them -- spoken from a man who definitely uses "Straight Talk with No Chaser"! 
© Copyright 2010 by The Informer, Inc.
P.O. Box 564, Macon, • GA 31201 * Ofc:  (478) 745-7265   *  Email:  gainformer@yahoo.com