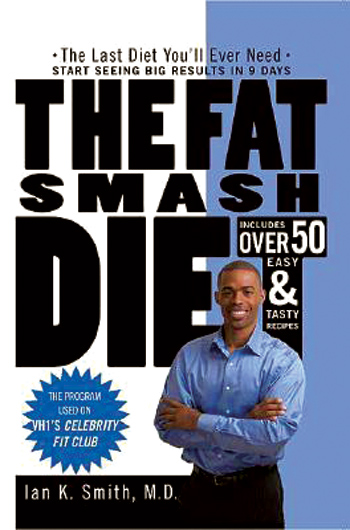 I think it is safe to say that most of us all want to look our best. We all want to be attractive for our "partners" in life - and if we do not presently have a partner - most of us are seeking that affirmation that we are "lookin' good".
Within the past few years something else - just as important as looks has become a priority in life no matter what age we are - and that is staying healthy, eating right and most importantly living longer.
Most of us have tried numerous diets - which only seem to last as long as we can stand to be on them! Some of us accomplish our goal, some of us don't seem to ever be able to - because no matter what diet we are on - that dreaded weight keeps creeping back into our life.
Honestly, in my opinion, the FAT SMASH DIET by Dr. Ian Smith - while it is really typical of most diets we have been on or read about, is slightly different in it's approach to getting people to lose weight and staying hooked on this diet. Dr. Smith, who is a medical contributor to ABC's televised "The View" and Men's Health Magazine, graduated from Harvard College and finished his Medical School at Dartmouth College (I had to get that plug in for Dartmouth College as that is where my Dad graduated from) uses a very important psychological aspect of the diet in his book. Make your readers and followers lose weight fast at the beginning of the diet in order to get them to commit to your program!
We all want instant gratification and I think you get it on this diet. Lose I did! The book describes Dr. Smith's 4 Phase Plan. To me, the key practices of any diet are Discipline and Exercise. But most diets I have been on - I practiced and followed to the "T" only to find out at weigh in I had only lost 1 pound!! And what was the result? I threw in the towel immediately. Dr. Smith describes Phase I as a detoxification for your body. You basically can eat all the fruits and vegetables, and brown rice you can eat - but NO meat! That killed me! But amazingly enough you also can eat all the beans you want which gives you the added protein you need. And the result? I lost 6 lbs the first 9 days! This is where Dr. Smith's diet is brilliant - because you get that psychological boost - "I am sticking with this and I am going to commit to this all the way through Phase IV." Each Phase is described in the book as to what you can eat and what you can't eat - with Exercise plans and recipes. Each phase gives you a few needed treats to keep you going. Phase II (The Foundation) allows you to add a little meat into your diet among a few other goodies to keep you going. This phase lasts 3 weeks. I must admit I got a little tired of trying to come up with different ways to eat the things you are allowed to eat - but again - at weigh in time I had lost another 3 lbs. Phase III (The Construction Phase) really drills into your head portion control - Weigh In - another 2 lbs lost! By the time you get to Phase IV (The Temple Phase - which lasts for life) - (and I have to admit by this time I have cheated a few times) you have really laid down a foundation of good eating habits which I really didn't have. I also learned to stay on an exercise routine and most importantly learned PORTION CONTROL.
I think you will find this a book that will not make you feel guilty if you do happen to slip up - and it is a book that I carry with me in my purse to refer to what I can and can't eat. I thank Dr. Smith for instilling in me good eating habits and the importance of keeping up a good lifestyle! So happy dieting and learn to SMASH some of those bad habits you have. If I can do it....you can do it! I give this book a thumbs up!
© Copyright 2010 by The Informer, Inc.
P.O. Box 564, Macon, • GA 31201 * Ofc:  (478) 745-7265   *  Email:  gainformer@yahoo.com