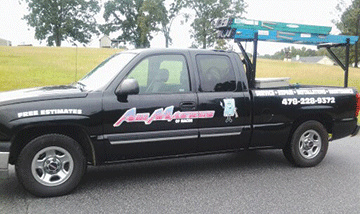 Lawrence Vincent is the owner and operator of Air Masters of Macon. He will be giving Holiday discounts and specials to new and established customers this season. One of his holiday specials will be a discount off your heating system tune-up, the regular cost is $79.00; his holiday rate will be $69.00. He will also take $25.00 off your first service call.
Lawrence is a licensed contractor with over 10 years' experience in the heating and cooling system business. He earned his degree from Central Georgia Tech in 2006' and is a member of the Better Business Bureau. He specializes in residential heating and air, service, repair, maintenance and installations.
"I always wanted to own my own business. So, this is something that I love doing and I just decided to go for it. And so far, it has been paying off," he said.
Air Masters of Macon offers quality service at an affordable rate. The company not only provides service in the Macon area but throughout middle Georgia. Air Masters of Macon has done work for doctors, churches and politicians. Their hours are Monday through Friday from 8:00 AM to 5:00 PM., Saturday 9:00 AM to 2:00 PM and Sunday for emergencies only.
"We take great pride in our quality of work as well as our reputation in the community," Lawrence added.
Lawrence is the son of Mr. Calvin and Shirley Vincent. He enjoys spending time with his wife, Naketia and their children.
Don't forget about the holiday specials. These offers expire December 31, 2013. For more information call 478.228.9372 or visit airmastersofmacon.com or email at lvincent123@yahoo.com
Here are a few tips from Air Masters of Macon:
1. The elderly as well as families with small children should have their heating system checked before the winter season kicks in.
2. Don't forget to replace your air filters (as needed).
3. Have your heating and air system inspected by a qualified technician.
4. Make sure you have a carbon monoxide detector in your home that is centrally located (if your home is 20 years old or older. Everyone should really have one in their home).
5. Make sure your heating system is set to a temperature that is comfortable for you.