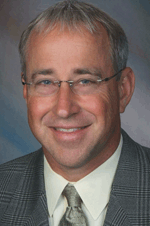 Roy Bibb and Chris Spicer
Robins Federal Credit Union, with 19 branches across Georgia, has proven its leadership in community service initiatives, donating over a million dollars to worthy causes during its nearly 60 years of existence.
Over $1.6 million has been donated to more than 500 charitable causes through corporate donations and event sponsorships, including the following:

• American Cancer Society's Relay for Life
• Better Business Bureau of Central Georgia
• The Children's Hospital at the Medical Center of Central Georgia
• The Cox Capitol Theatre
• Georgia Marine Moms
• Girl Scouts of Historic Georgia, Women of Distinction Luncheon
• Habitat for Humanity
• March of Dimes, March for Babies
• Rebuilding Macon, Inc.
• The Ronald McDonald House
• The Tubman African-American Museum
• United In Pink, Inc., Bunko for Breast Cancer
RFCU employees also volunteer their time with multiple organizations, including the American Cancer Society, Relay for Life; the American Red Cross; The Children's Hospital, Miracle Jeans Day and Reindeer Run; Rebuilding Macon, Inc.; the Ronald McDonald House and Susan G. Komen for the Cure. "Robins Federal firmly believes in giving back to the community," said Marketing Manager Chris Spicer. "But it's not just about making financial contributions. The employees of this credit union are passionate about the community -- we roll up our sleeves and really get involved to help local charitable causes and initiatives," she said. "We truly strive to make a difference in people's lives." There is even a RFCU Swag Patrol, a group of do-gooders who perform random acts of kindness for unsuspecting citizens! The Swag Patrol made frequent stops in Bibb County last year and has made plans to drop in on everyday people again this year.
A firm believer in education, Robins Federal Credit Union awards $20,000 annually in college scholarships to graduating high school seniors. For adults, free consumer education seminars are held in topics such as investment and retirement strategies and tips for first time homebuyers.
Originally founded for employees of Robins Air Force Base in Warner Robins, Georgia, RFCU began operating under a community charter in 2000, opening its doors to anyone who lives, works, worships, attends school, or does business in the 16 counties that the institution serves. There is a Robins Federal Credit Union branch in Baldwin, Bibb, Clarke, Crawford, Emanuel, Houston, Jones, Macon, Monroe, Peach, Pulaski, Putnam, Taylor, Telfair, Twiggs and Wilkinson counties. RFCU opened its first branch in Bibb County in 1985 on Log Cabin Drive. Since that time, four other branches have opened, most recently in April of 2011 at 2930 Riverside Drive in Macon.
Through the Credit Union Service Center Network, Robins Federal members can conduct business at over 4,000 branches nationwide and can conveniently utilize forty five ATMs locally. Members can also use more than 2,700 ATMs nationwide, free of any surcharge. With more than 140,000 members, Robins Federal Credit Union is one of the largest credit unions in Georgia, with total assets exceeding $1.5 billion.
While offering the same financial products and services as other banking institutions, Robins Federal Credit Union is operated differently. A not for profit enterprise, RFCU is democratically controlled and member-owned and operated. Run by an unpaid Board of Directors, each board member has only one vote, regardless of financial status and is elected to the Board through democratic election. "The United Nations General Assembly has declared 2012 the International Year of Cooperatives," said John Rhea, President and CEO of RFCU. "Robins Federal is a financial cooperative that is owned by the members and committed to improving their financial well-being. We have an outstanding team of nine volunteer board members and three volunteer supervisory committee members who are actively involved in helping Robins Federal remain strong, secure and stable," he continued. "Our board is made up of people with a variety of backgrounds, including business owners, active and retired military and civil service workers, and even a Pastor. Our board members take pride in the role that they serve and it is a pleasure to work with them."
Unlike many other banks, Robins Federal Credit Union has elected not to charge debit card and checking account fees; any profits gained are returned to the customer through higher rates on savings and lower rates on loans.
Winner of the 2010 Better Business Bureau Torch Award for Marketplace Ethics and selected as a Credit Card Connection choice for its outstanding Visa credit card program, Robins Federal Credit Union offers a full range of financial products and services, from basic savings accounts to auto and home loans. Easy and convenient online banking at www.robinsfcu.org offers Web Bill Pay, e-alerts, e-statements, Debt In Focus (a free online financial tool) and much more. "Most people get excited when they learn about the full range of financial products and services that we offer at Robins Federal," said Roy Bibb, Vice President of Branch Services. "We really are just like a bank, but better. In addition to savings and checking accounts, we provide mortgage loans, home equity loans, auto loans and even business loans," he continued. "We're the only financial institution in this area that offers unique services to young people (aged 16-24) who are in the process of building their credit and smart money habits. In order to provide convenient access to your accounts, we have 19 branch locations and a variety of electronic services, giving you access to your accounts 24/7/365. We also offer VISA credit cards, Money Market accounts, Certificate accounts and Investment and Retirement services."
If your bank isn't living up to your expectations, Robins Federal Credit Union encourages you to try out a bank with a different goal in mind: Better Banking for Everyone!