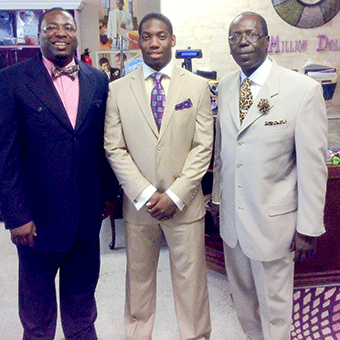 Doug White, Darqueze Dennard, Louis White.
Doug And Louis White owns LDW's Men's Designer Fashions
LDW's Men's Designer Fashion's located in Macon Georgia, hosted a Style Party for NFL Cincinnati Bengals #24 1st round draft pick of former Michigan State Corner Back, Darqueze Dennard. On Wednesday, May 7th, 2014, LDW's invited family and friends of Dennard to be apart of the pre-celebration of being 1st round draft pick as LDW's sent Dennard off with Suits, Shirts, Ties, Belts, Cuff Links, Shoes, in addition to a $1,000.00 gift certificate. LDW's part owner Douglas White states, he saw a vision to support and encourage Dennard because of his positive efforts on the field and in life. Doug also reflects on dressing NFL #19 draft pick Kareem Jackson back in 2010 when drafted by the Houston Texans. Louis White, (co-owner of LDW's), states that he was inspired to present gifts to Darqueze so that he could represent Twiggs County and the entire middle Georgia area with the "Million Dollar Look". White also stated that we must support our own, and that was easily done with Darqueze's humble and grateful spirit. The event was planned and hosted by in-house Stylist and Event Planner, JacQuez J.Harris.
Peggy Curry and Darqueze Dennard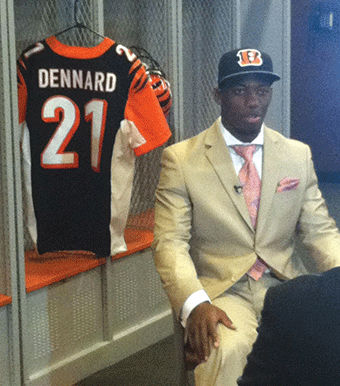 Darqueze Dennard in the Cincinnati Bengals' Locker Room
LWD's Designer Fashion's
3706 Mercer University Drive • Macon, Georgia
110 W Church Street • Fort Valley, Georgia
478-822-0888
© Copyright 2014 by The Informer, Inc.
P.O. Box 564, Macon, • GA 31201 * Ofc:  478-745-7265 * Email: gainformer@yahoo.com