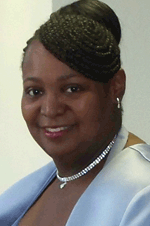 Dr. Seborah King
Dr. Stephen Summerow and Dr. Seborah King announce the Grand Opening and Ribbon Cutting of New Vision Family Eye Care, located at 3711 Eisenhower Parkway in Macon, Georgia. This event will take place on Wednesday, November 18, 2010 at 10am and will be attended by the Macon-Bibb Chamber of Commerce. Dr. Summerow and Dr. King will also host a meet and greet at the new location on Sunday, November 21, 2010 at 5pm. The public is cordially invited to attend both of these events.
Summerow & Associates has been providing premium and comprehensive eye care services to the middle Georgia area since 1999 and operates at Sears Optical and JC Penney, both in Macon, Georgia. Dr. King provides services at the WalMart Superstore on Zebulon Road in Macon, Georgia The eye care professionals are combining their practices to form one location from which middle Georgians can receive all of their eye care needs.
Owner, CEO and President of Summerow and Associates, Dr. Stephen D. Summerow received his undergraduate degree from Oglethorpe University in Atlanta, Georgia where he completed a dual major course of study in biology and psychology. He then completed his Doctorate of Optometry at Nova-Southeastern University in Fort Lauderdale, Florida. Dr. Summerow is licensed to manage and treat ocular diseases of the eye, as well as prescribe Therapeutic-Pharmaceutical Agents in the treatment of eye health conditions. Summerow is also certified to perform pre- and post-operative care of the LASIK/LASEK laser surgery to correct near-sightedness.
Dr. Summerow is an accomplished lecturer and has conducted numerous presentations on minority eye health conditions throughout the Southeast region of the United States. In March of 2010, he performed visual screenings and health examinations on approximately 80 members of the Executive Leadership Council, a population of primarily African American males and females. Dr. Summerow's findings were of particular note to the community and are as follows:
Approximately 65%-70% of the patients had not had an eye exam in the past year
Approximately 50%-60% of the patients had glasses that were more than 2 years old
Approximately 80% were unaware that bifocal contact lenses were an option
Approximately 70% did not have a second pair of glasses
Approximately 95% agreed that more information would lead to better eye care
Dr. Summerow has a zeal for mentoring youth and has consistently introduced them to the field of Optometry. The motto he holds true to his profession and life's work is "Clearing the Darkness so the World Can See the Light". Dr. Summerow is also the Pastor at Greater Friendship Baptist Church in Macon, Georgia and is married to the lovely Joanna Summerow. The couple has two children and a nephew they raised who is now a senior at Savannah State College.
Dr. Seborah King graduated in 1987 from Knoxville College in Tennessee with a Bachelors degree in Biology. She then received her Bachelor and Doctorate degrees in Optometric Science from Pennsylvania College of Optometry in 1995 and 1997, respectively.
After offering services at the Walmart in Dublin, Georgia for three years, Dr. King relocated to the WalMart Superstore on Zebulon Road in Macon, Georgia, where she has remained since 1995.
A Macon native, Dr. King is a member of the following organizations:
The Society of Professional Optometrics
The American Optometric Association
The National Optometric Assoctiation
Dr. King has also performed vision screenings and served on the lecture panel at The Medical Center of Central Georgia for the past four years. Dedicated to serving others, she also works in home health care, performing services for home and nursing home bound patients (ambulatory care).
Dr. King works with Cub Scout Pack #551 through Greater Bellevue Baptist Church of which she is a member and the Reverend David Stephens is Pastor. She also works with the Youth Ministry at Greater Bellevue and has performed with The Gospel Movement of Macon Georgia mass choir since the 8th grade. Dr. King has been married to Oscar L. King, Sr. for 22 years and the couple has two boys -- Oscar, Jr. is 17 years old and Mykel is 9 years old.

Combining their businesses is a win-win situation for all middle Georgians. Offering a full scope of professional services, New Vision Family Eye Care offers eye examinations for glasses and contact lenses, as well as bifocals. Dr. Summerow and Dr. King also co-manage eye surgeries, pre- and post-operative. "I'm excited about New Vision because it allows us to reach more people in the community than we were able to in our retail practices," said Dr. King. "We invite the public to attend our ribbon cutting and meet and greet to see what we have to offer."