Members of the International College of Bishops will consecrate The Reverend Dr. Barbara Lewis King as the first Bishop within the international New Thought Christian Movement of churches. This historic consecration service will take place on Sunday, September 26, 2010 at 6:00 p.m. at the Hillside International Chapel and Truth Center located in Atlanta, GA.
"Dr. King has shown immense dedication, compassion and commitment to the work of the church for many years. As an affirmation of her ministerial call and global impact, we -- the members of the International College of Bishops -- will consecrate her to the office of Bishop in God's Universal Church," said Bishop Carlton D. Pearson, Interim Senior Minister at Christ Universal Temple (Chicago, IL), senior consecrator for the service.
The College of Bishops slated to consecrate Dr. King includes Bishop Yvette Flunder (San Francisco, CA), Bishop Xavier (Ike) Eikerenkoetter (Malibu, CA), and Bishop Jim Swilley (Conyers, GA). Reverend Dr. Blaine Mays, president of the International New Thought Alliance, and Reverend Dr. Della Reese-Lett, Understanding Principles for Better Living Church will participate in the service along with Bishop Pearson. Spiritual leaders, stateswomen, and statesmen from across the world have been invited and are expected to attend the celebration, including Dr. Maya Angelou, Susan Taylor, Tavis Smiley, and Dr. Cornel West.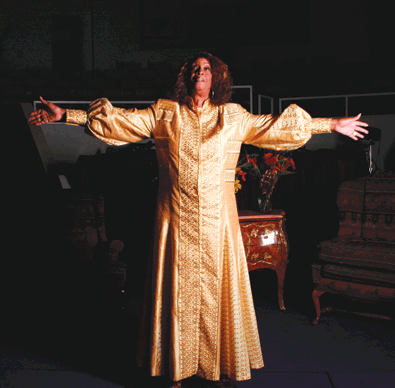 The living legacy of The Reverend Dr. Barbara Lewis King is a long-standing testimony of her qualifications for the position of Bishop. She is the founder minister/world spiritual leader and CEO of Hillside International Chapel and Truth Center, Inc, one of the largest New Thought Christian churches in the world; and she has been enstooled as the first female chief at Assin Nsuta, Ghana, West Africa. Having had audiences with the Dalai Lama, South Africa's former President Nelson Mandela, Archbishop Desmond Tutu; and having worked closely with His Holiness Sri Sri Ravi Shankar and Dr. and Master Zhi Gang Sha, she is known throughout the world. Dr. Barbara, as she is affectionately called by her congregation, has been a guest at the White House consulting with Presidents Jimmy Carter and William J. Clinton.
A Sunday School teacher at age 13 and a Woman's Day speaker at age 15 in her hometown of Houston, TX, Dr. Barbara was destined for service. She learned Christian principles from her family, was an "A" student in high school, and graduated from Texas Southern University. After Dr. King received her Master of Social Work degree from Atlanta University, she settled in Chicago. She held several prominent social work positions before meeting Reverend Dr. Johnnie Colemon, founding minister of the Christ Unity Temple, who inspired her to pursue her dream to become a minister.
Dr. King and her family, which had grown to include her son, Michael Lewis King, returned to Atlanta, where she continued her work in social work at Atlanta University and later served as Dean of Students at Spelman College. In 1971, The Reverend Dr. Barbara Lewis King, with twelve friends and prayer partners, founded Hillside International Chapel and Truth Center. Over the years, Hillside has grown in its mission and its service. In 1977, the Barbara King School of Ministry was founded to train ministers and "Truth" teachers to spread the metaphysical principles in the universe and develop other New Thought churches.
The nationally acclaimed publication, Transform Your Life, is one of the nine books and monographs authored by Dr. King, in addition to numerous magazine articles and essays. She hosted her own television show, "A New Thought, A New Life," which appeared on network and cable television. Recognized as one of the foremost spiritual leaders in the 21st century, Dr. King continues to receive numerous honors. Her portrait hangs in the International Hall of Honor at Martin Luther King Jr. Chapel at Morehouse College.
"An essential tenet of Dr. Barbara Lewis King's ministry is the unity, oneness, and connectedness of all life, and she has spent a lifetime devoted to these principles," concludes Dr. Pearson. ""My personal commitment is to touch someone's life and help them to see their very special talent to be given to the world as only they can do," says Dr. Barbara.
About Hillside International Chapel and Truth Center, Inc. Hillside is a healing ministry of the whole person: Spirit, Mind and Body. Hillside is a member of the International New Thought Alliance. The sanctuary and other facilities are located on a thirteen acre campus at 2450 Cascade Road, SW; Atlanta, GA 30311. For further information, please call 404-758-6811 or contact www.hillsidechapel.org.