by Amanda Smith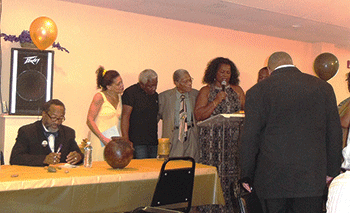 Left to Right: Lutheran Iglehart, Lydia Walton Cooms, Ronny Cooms, Elder O.C. Walton and Commissioner Elaine Lucas

Approximately 75 family and friends gathered to celebrate the 90th birthday of Elder O.C. Walton, retired pastor of Crisp Street Church of God in Christ, located at 384 Spikes Street in Macon, Georgia. The celebration was held on July 26, 2014 at Southern Georgia COGIC headquarters, 2938 Gray Highway in Macon. Elder Walton pastored Crisp Street COGIC for 41 years before retiring four years ago; Elder Charles Blackmon is the current Pastor.
Elder Walton was born in Jones County in 1924 and attended public school there. Following high school, he entered the United States Army where he remained for over 2 years. Walton then gained employment at Birdsey Flour Mills in Macon, where he worked for 4 years. He also attended vocational school, learning the trades of shoe repair and tailoring. Walton retired from Robins Air Force Base after 31 years working as a Sheet Metal Mechanic.
Elder Walton married the late Mattie Walton in 1948 and the couple had 11 children, 8 of which are still living. Having been saved in 1953, Elder Walton was called to the ministry in 1957 and ordained in 1962. He was appointed to the Duresville COGIC in Macon where he served as pastor from 1962-1965. He then established the Bible Way Mission COGIC in Macon and served there as Pastor from 1965 until 1969, when he was appointed to Crisp Street COGIC. Elder Walton retired in 2010.
Retirement means more work for the Lord though. Elder Walton suffered health issues that landed him in the hospital and while he was there, the Lord spoke to him, directing him to bring Jesus Christ to others. "The action assigned to me by the Lord is to advertise Christ," he said. "The Lord then asked me where and how long I wanted to go on this path and I answered Him, 'Around the world three times'. I went to work immediately after I got out of the hospital and developed a tract that I have now given out to thousands of people." Elder Walton's tract reads:
Take me, read me, I am free
Pass me on for others to see
How to be free just like me
On the inside of the tract is the gospel of Jesus Christ. Elder Walton plans to get the tract on social media sites like Facebook and Twitter so that even more lost souls can find their way to the Lord.
© Copyright 2014 by The Informer, Inc.
P.O. Box 564, Macon, • GA 31201 * Ofc:  478-745-7265 * Email: gainformer@yahoo.com