"If you stay small long enough, God will make you big soon enough." This is certainly the testimony of Dr. E. Dewey Smith, Jr., pastor of Greater Traveler's Rest Baptist Church AKA House of Hope of Decatur, Georgia. During the month of August, he shared the same stage at the Potter's House in Dallas, Texas, with Bishop T. D. Jakes, Dr. Creflo Dollar, Dr. Maurice Sapp, Pastor Joel Olsteen, and several others at this year's MegaFest conference.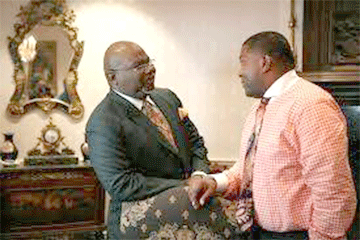 "That's been my mantra for over 20 years. The scripture says 'Pride goes before a fall.' One scripture says, 'God resists the proud, but he yields grace to the humble.' All lot of times, pride and conceit, egotism, elitism, and narcissism, prevent us from being equipped to be what God wants us to be. I just believe if you want to be used by God, be available, and if you stay small enough long enough, God will make you big soon enough, and God determines what is big enough."
The Lord has really expanded this man of God's territory. Dr. E. Dewey Smith, Jr., husband of Andrea Fambro Smith, father of Kamari and Kylen, and son of Dr. Eddie D. Smith, Sr. and Verlene Smith, began his ministry at age 17 at Macedonia Church in Macon, Georgia, where his father, Dr. Eddie D. Smith, Sr., licensed and ordained him.
"My son is serious about the Lord's work," Dr. Eddie D. Smith, Sr. said. "He received a solid foundation here at Macedonia. The opportunity of MegaFest doesn't add to who he is or where he is going. However, it did give him greater exposure, worldwide exposure for his ministry and for the church setting."
Dr. E. Dewey Smith, Jr. received his first pastoring assignment at age 19 at Beulahland Bible Church of Macon, Georgia. During his tenure, the congregation grew from 48 members to over 3,000.
Rev. I. E. Mack, a friend of Smith's and pastor of Unionville Missionary Baptist Church of Macon said, "When we look back at what I would call church growth for the last decade, this guy was the biggest motivator and a stimulator for the church growth in Macon that we have seen in the last decade. We have to look at where it really started. It was his dad during the late 70s and 80s, and E. Dewey definitely took it to another level. Once growth takes place, it is hard for it not to spill over into other ventures."
Being on a world stage has been a longtime coming for Smith. In December 2003, Smith was installed as the 22nd pastor of The House of Hope, and the membership has grown phenomenally. He has been being prepared for an audience such as MegaFest all of his life.
MegaFest is a series of conferences for all age groups given by Bishop T. D. Jakes. They include Woman Thou Art Loosed, ManPower, MegaKidz, and MegaYouth. This year, this event was hosted in Dallas, Texas, and Dr. E. Dewey Smith, Jr. was one of the featured keynote speakers. The invitation to the event took him by surprise. In fact, initially, Smith believed someone was playing a prank on him.
Dr. Smith went on to say that upon meeting Bishop Jakes, he discovered that Jakes had been following his ministry for years. A few years ago, the House of Hope purchased their church from Cathedral of Holy Spirit, which is the property where Jakes had his first national Woman Thou Art Loosed conference. Jakes wanted to purchase the land, perhaps to begin a Potter's House satellite church in Atlanta, but it had already been purchased by the House of Hope before Jakes could get a contract on it. He has been watching and admiring Smith's ministry ever since.
At MegaFest, Dr. Smith was the opening speaker for Friday morning for the ManPower conference, followed by Dr. Marvin Sapp, and then Bishop T.D. Jakes. According to Smith, it was indeed an humbling, surreal experience.
"I'm from Macon; I love my hometown. You talk about over 95,000 people from my hometown, and I'm in Dallas where you have just as many people attending this conference than is in our whole city. In one of the services where they had special seating for my wife and me, I was sitting behind Tyler Perry and Kerry Washington, to my left is Michael Irving, right behind me is Meagan Good, right here is Emmett Smith. I'm preaching and Deion Sanders is looking at me. Who would ever imagine this would be happening to me? I mean I'm from South Macon, from Pebble Street, B.S. Ingram, Winship, Alexander II, Miller, Central, so it's like Wow! To God be the glory!"

Smith went on to say, "MegaFest for us (preachers) is like the Superbowl of preaching; it's like the Grammy awards of preaching, so to be on that platform and to think about everyone from Macon who have laid the foundation like my father, my grandfather, my great, great uncle Matthew Brown, Pastor Jacob Parker, and all the other pastors from whose shoulders I stand, it's just a very humbling experience."
This experience will not be the last time Smith partners with Bishop T. D. Jakes, though. Smith has been extended the invitation to preach for the Potter's House during a Sunday worship service in February. In addition, he will be one of the keynote speakers for Bishop T. D. Jakes' Pastors and Leaders Conference in Orlando, Florida, March 6-8th, 2014.
Dr. Walter Glover of Greater Zion Hill Missionary Baptist Church is one of Smith's greatest supporters. "I've known Smith since he was a little bitty crawling baby, and I am not at all surprised by this invitation from MegaFest because of his astuteness and his growth in the ministry and the kind of preacher he is. Dewey has become a global preacher. He is not confined to a local town. Because of his gifts and his humility, he is at a point where he is recognized globally."
Rev. I. E. Mack is not at all surprised either. "Pastor E. Dewey Smith, Jr. is definitely one of the most anointed and appointed preachers in this day and time. He is gifted beyond measure for teaching and empowering people, an unusual gift from Macon. The scripture says 'Eyes have not seen, nor ear heard, neither entered into the heart of man the things which God hath prepared for them that love Him.' Where Smith is now is not where he will reside. We just believe this is just the beginning of where he will go to empower men and women to become lovers of the Lord."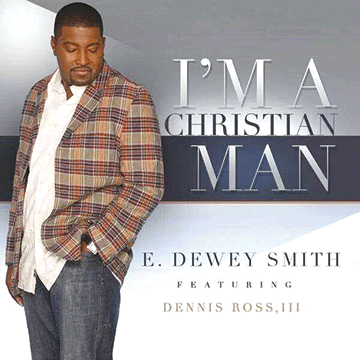 Not only is Dr. Smith being recognized for his anointed gift of preaching, but for singing as well. He has recently been signed to RCA Records for his new single, "I'm A Christian Man." This single, which can be found on iTunes and was debuted at MegaFest, is sweeping the nation. It has been played on the Yolanda Adams Show, the James Fortune Show, and the Rickey Smiley Show. It is produced by Dennis Ross who was one of the major producers of Boyz II Men. It sounds like something the O'Jays or Levert would sing, not churchy, but with a Christian message.
Smith explained, "The song deals with manhood. We (black men) are portrayed as thugs, gangsters, pimps, and womanizers. There is a very negative image of black men out there. This song is important to me because it says if guys can celebrate pimping and thugging and banging and shooting and killing and money. Then why not lift up an idea that it is cool to be a Christian man; that you don't have to be soft, passive, or docile. You can love the Lord and love your lady. You can take care of your kids. You can go work and proudly declare I'm a Christian man!"
Smith has been a busy man. In addition to preaching and recording music, he has recently published his latest book, A God Dream. The book tells how to determine if a dream is one's ambition or one's divine assignment. The book helps to distinguish between what's God's will and what is one's own human wish. The book is available at edeweysmith.org, amazon.com, and iBooks.
Although Dr. E. Dewey Smith, Jr. has a busy itinerary, his main focus is ministering to his congregation and the world through his church, Greater Traveler's Rest Missionary Baptist Church AKA The House of Hope. It is one church that ministers to five generations. Some of its ministries include the Youth and Children's ministry, Faith under Forty ministry, Forty and Up ministry, Senior Adult ministry, and Do Something Saturdays ministry. Some of the Do Something Saturdays' work includes working with men with drug addictions. The House of Hope has partnered with the Trinity House, a transition house for men. In addition, the church is also starting something called Tabatha's House for girls (11-15 years old) who have been victims of human trafficking.
Dr. E. Dewey Smith, Jr. is truly ministering to serve this present age by preaching a relevant Word and ministering to the needs of the people. To keep up with his ministry, visit www.gtrbc.org, or follow him @edeweysmith on Twitter, Facebook, and Instagram. In addition, his website is www.edeweysmith.org., and the Greater Travelers Rest app can be downloaded on your iPhone, iPad, or android device. The House of Hope is located at 4650 Flat Shoals Parkway in Decatur, Georgia.
© Copyright 2013 by The Informer, Inc.
P.O. Box 564, Macon, • GA 31201 * Ofc:  478-745-7265   *  Email:  gainformer@yahoo.com
by Deborah E. Dennard