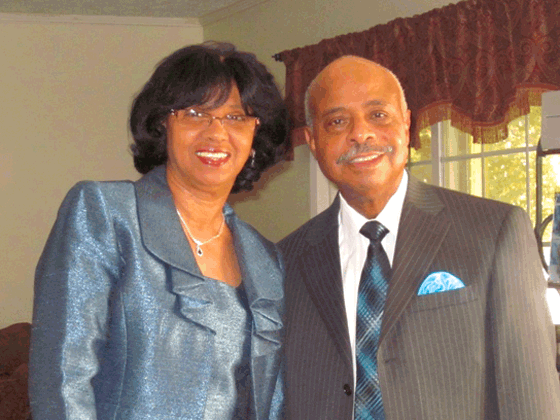 The Reverend Ulysses Finney celebrated his 1st anniversary as Pastor of Mt. Gilgal Baptist Church in Dry Branch, Georgia on Sunday, November 13, 2011. Guest Speaker for the occasion was the Reverend Ralph Cherry of St. John Baptist Church, located in Macon, Georgia.
Reverend Finney was installed as Pastor of Mt. Gilgal on Sunday, November 14, 2010 by his former Pastor, Reverend Edward Dawson of Unity Missionary Baptist Church in Macon.
Born in Chicago, Illinois, Reverend Finney was raised in Macon and attended Duresville Elementary School and Appling High School. He received his Bachelor of Arts degree from Fort Valley State University and graduated from the American Baptist Theological College. Reverend Finney also attended the Shiloh Theological Institute and was licensed as a Minister of the Gospel in 1998 and ordained in August of 2002.
Reverend Finney is a member and former Associate Minister at Unity Missionary Baptist Church where he also served as Director of Christian Education. Prior to his 20 years at Unity Baptist Church, he was a member of Mt. Calvary Baptist Church in Macon.
Professionally, Reverend Finney retired from Robins Air Force Base in Warner Robins, Georgia where he served as Supervisor of the F-15 aircraft. He also retired from the Air Force Reserve with the rank of Master Sergeant.
A volunteer for the American Red Cross, Reverend Finney also serves as a board member for the organization. He serves as Chairman of the Board of Adopt-a-Role Model and is a member of the Baptist Ministers Union and a Board Member of the Central Georgia Joint Development Authority.
Reverend Finney is married to the lovely Rosalyn Foster Finney and the couple has twin sons, Rodney Jerome and Ronald Jerod. They are blessed with five grandchildren.
Mt. Gilgal has seen tremendous growth in the year that Reverend Finney has led the congregation, soaring from a mere handful of attendees to over fifty individuals for each service. Over 75 people attended Mt. Gilgal's first Vacation Bible School on July 11-13, 2011. Currently, worship service is every second Sunday at 11am, but will increase to every second and fourth Sunday at 11 am, beginning January 1, 2012. At that time, Sunday School will also be held before each worship service at 9:45am and Bible Study will be held each second and fourth Wednesday at 7pm. "My vision for Mt. Gilgal is to increase service times for church and Sunday School and build Youth Ministries, such as Youth Church, Youth Choir and youth involvement in the church," said Reverend Finney. "We will have more activities and functions for the youth such as field trips, educational activities, and also workshops for the youth."
Reverend Finney has found his new congregation to be a joy to lead. "Everyone has been very warm, kind and supportive," he said. "It's been wonderful to be a part of Mt. Gilgal Baptist Church."
Reverend Finney and the congregation of Mt. Gilgal extend a warm invitation for the public to join them for worship service at 11am on second and fourth Sunday at 5199 Old Gordon Road in Dry Branch, Georgia.

© Copyright 2010 by The Informer, Inc.
P.O. Box 564, Macon, • GA 31201 * Ofc:  (478) 745-7265   *  Email:  gainformer@yahoo.com