Friendship Baptist Church
Hosts Americolor Opera's Spring Concert

Dr. Sharon Willis presents excerpts
from twelve original operatic works --
Our Legacy through Word & Song

Friendship Baptist Church will host the Americolor Opera in the presentation of excerpts from twelve (12) of the original operatic works written and produced by Dr. Sharon Willis on Saturday, April 20, 2013, at Friendship Baptist Church, 437 Mitchell Street, SW; Atlanta, GA 30313. The spring concert of Americolor is a fundraiser benefiting the Americolor Opera Alliance (AOA). There will be two performances --- a noon performance, followed by a reception to meet the performing artists. Another performance will take place at 6:00 p.m. which includes dinner.

Some of Atlanta finest voices and talent will be featured in this Americolor Opera in a stage presentation that captures the essence of the African American experience. Performers in the operas are, among others, soprano Kathye J. Gary and mezzo soprano Yolonda Williams; tenors include Mel Foster and Timothy Harper; basses include Michael McBride and Wendel Stephen; and voice talent for the narrative is Dr. Willis. Phillip V. Skerrett will accompany on piano. Dr. Willis is the founder and director of Americolor Opera Alliance, an organization dedicated to presenting opera stories or librettos based on American and Afro-centric culture and experiences and, at the same time, educating young audiences about the genre of opera.

Americolor Opera tells the story of African American heritage through the singing of time-honored spirituals, poetry recitations, vivid narratives, and dramatic scenarios. Scenes in the life of legacies such as Alonzo Franklin Herndon, Madam C. J. Walker and others are skillfully intertwined in this musical journey. "I am very excited, and proud, to be able to bring to Atlanta a sampling of all of my works. Having presented our very first performance in 2000 in East Point, the Americolor Opera has grown up in so many ways - our array of talent has grown, our ability to deliver a professional performance is peeking, and the Atlanta audience has continued to welcome us. We invite the community to come out and see us," said Dr. Willis

Tickets for the April 20th noon performance are $25 and $10 for children 10 years and under. Tickets for the 6:00 p.m. dinner performance are $100. All proceeds will benefit the programs and projects of Americolor Opera Alliance. For more information, please email americoloropera@yahoo.com or call 404-917-4137.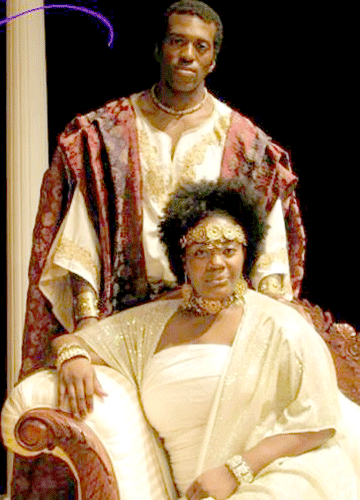 Samuel Martin, Jr. and Reisha Lauren, performing in
The Seduction of King Solomon.