Higher Ground Ministries Church Dedication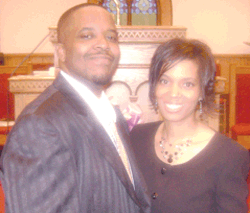 Bishop Elmo Daniels II and First Lady Felisa Daniels
Bishop Elmo Daniels, Jr. is the pastor and founder of Higher Ground Ministries. He is a man of God with a passion for seeing souls saved, delivered and individuals living a prosperous life. He has been called to break denominational and cultural barriers. Bishop Daniels preaches and teaches the Word of God with simplicity, clarity and power. His message is uncompromising and direct.
He states we are a church for people who want to live a victorious life. We have tasted and seen that the Lord is good. We have a mission at Higher Ground Ministries: To grow in faith and share our faith in God with the world around us. In order to achieve this mission, we will strive to be an "open-door church" by actively reaching out and welcoming all people. We will give our very best efforts towards our weekly corporate worship services. Our mission is to provide opportunity as well as in the global community of which we are part. We will model the body of Christ in our inclusiveness of the gifts of all persons and in our daily living.
Bishop Elmo Daniels II and First Lady Felisa Daniels extend the right hand of fellowship and worship to our ministry dedication. Please join us on March 27, 2011 at 2:30 pm, 1637 Third Avenue Macon, GA 31201 for the dedication of our ministry for the edification of God. Pastor Joe Ridley and The Body of Christ of Gray GA will be the vessel of the word for this occasion.
Higher Ground Ministries offer services every Sunday beginning with Sunday School at 9:15 am and Worship Service at 10:30 am; Wednesday night Bible Study beginning at 7:00 pm.