MCEO Holds 2nd Meeting In East Macon In An Effort To Bring The Community And Kids Together
Rev. Dominique Johnson recently looked at his community in East Macon where he was born and raised and didn't like what he was seeing. Even more, he didn't like what he was hearing and reading about the children in the school system. Violence, gangs, teen pregnancy, unemployment and crime seem to have taken over a once proud community. While sitting in a local barbershop discussing it with some classmates, Johnson decided to start an organization that could help bring this community back together and take the kids back off the streets. He came up with MCEO, Macon Community Enrichment Organization.
On Saturday, September 25, the grassroots organization held its second meeting, which was also its 1st Annual Family First Community Rally at the Rosa Jackson Center in East Macon. Although there was a huge turnout; with a cook-out, games for the kids and a lot of old friends re-uniting and fellowshipping together, Johnson did take the time to address the crowd and let everyone know what MCEO was all about and some of the reasons for coming together. "We're starting in East Macon because that's where I'm from and I don't know people that I can do something like this with in South Macon right now but we plan on going there too," he stated at the rally.
MCEO is comprised of individuals with vested interest and sincere desire to effect change in Macon communities. Its areas of focus are Education, Economic Development, Community Development and Leadership Development. Johnson believes that with these areas of focus as a foundation the community can build stronger, healthier and more productive neighborhoods that will nurture stronger, healthier and more productive families, which will restore pride and improve quality of life for all starting with East Macon. MCEO is seeking to be an asset and resource by bridging gaps between the citizens and existing programs, services and information that will encourage, aid and empower them. "We can no longer wait on local governments and other organizations to evoke change in our community. As residents of Macon, it is time for those who have benefited from the love, support and teachings of the community to come back and reinvest in the community.
The next MCEO meeting will be held at Appling Middle School on October 16 at 3:00. Johnson encourages all to come out and drive around to the back. "It may seem like we're not there but we're in the cafeteria so just pull on in and drive around back," he says. Dominique Johnson can be reached at 478-390-3371 or on facebook under MCEO.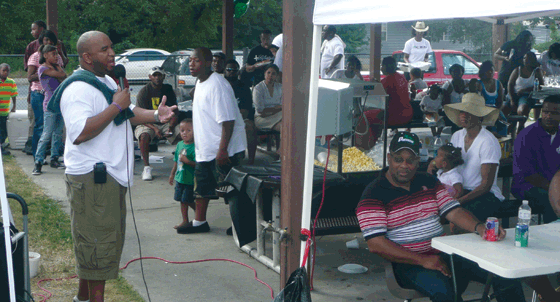 Rev. Dominique Johnson addresses the crowd