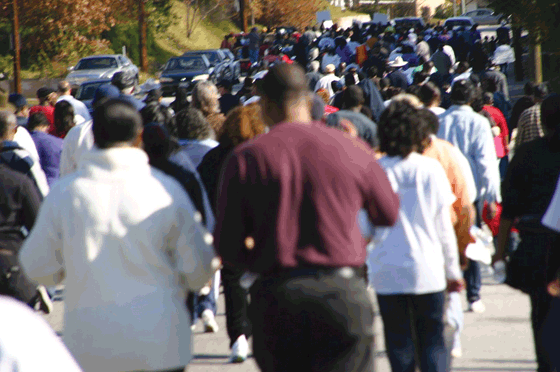 Crowd Of Marchers Make Their Way Through The Unionville Community
Yvette Wimberly says her son is more than a number. The teen has been referred to by many as Macon's 17th homicide this year. So to continue putting a face on her offspring and other homicide victims, the concerned parent and nearly 300 other local citizens took to the streets during November 20 collaboration between the church and community called Out of the Pews, Into the Community: A March Against Violence.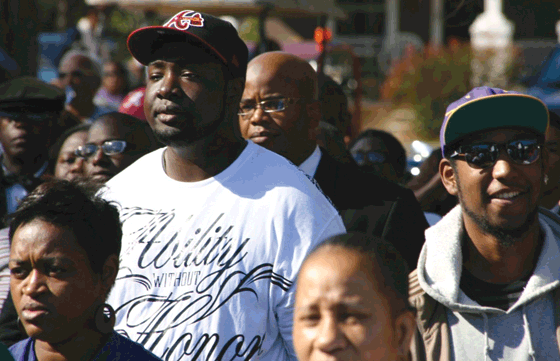 March Participants Listen Intently At The End Of The Route To Speakers
A recent rash of violent deaths compelled the United Fellowship of Churches – a union of congregations from Beulahland Bible Church, Bibb Mount Zion Baptist Church, Ebenezer Baptist Church, First Baptist Church, Macedonia Baptist Church, The Pentecostal Temple and Unionville Baptist Church – to ban with law enforcement, city leaders, area organizations and residents in a march through the Unionville neighborhood to protest against the violence and to proactively reach out to current or potential trouble makers before they land in jail or the grave.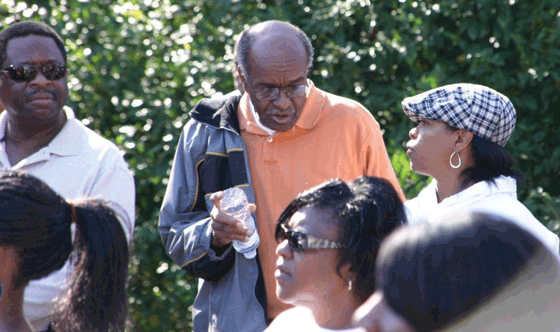 Bibb County Commissioner Bert Bivens And
Former Macon City Council President Anita Ponder Converse Following The March
As marchers walked the pre-planned route, onlookers watched and listened to participants' shouts of "Unified Churches...We Care!" In the group could be seen politicians, children, the elderly and professionals of all races, sexes, religions and economic backgrounds; like Wimberly, expressing their desire to change the circumstances in Macon's streets. "I don't want to see another parent go through what I went through," said Wimberly. "This is what I have to do to ensure that this doesn't happen to anyone else's child." Former Macon Mayor C. Jack Ellis says he participated to send a message as well. "This march says to both the law abiding citizen and those off-track that we care about them," said Ellis. Adopt-A-Role Model founder Tina Dennard said an on-going presence in the community is essential. "If you are doing this all the time, then you make it real easy for those in the community to say that someone cares about them," Dennard stated.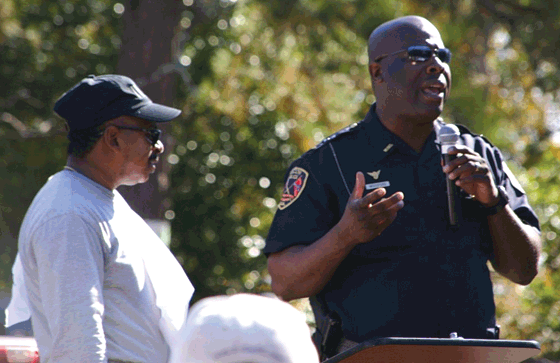 Macon Police Department Lt. Eric Woodford Speaks To March Participants As Rev. Ike E. Mack Looks On
Saving troubled youth inspired the march and organizers plan on providing constructive venues for young people beyond the event through mentoring programs, job provision and training and social outings. Meanwhile, fifteen year-old Courtney Holt of Macon says that youth must become actively engaged in changing their condition. "More teenagers should take part in activities like this", expressed Holt as she made her way towards Columbus Road with her siblings and mother. "I hope that the people we are ministering to today will take this showing to heart and stop all the senseless violence that been taking place." A few feet away, Dwayne Johns, 20, of Macon echoed Holt's words." We need to stop all this chaos around here and unite. All this killing is senseless," he stated. "I hope by coming out today it will say that there are better choices out here."
At the end of the route, several pastors from the seven sponsoring churches took to the stage during a 45 minute address. They were joined by Mayor Robert Reichert, Macon City Councilman Virgil Watkins, representatives from various organizations, law enforcement members, along with Minister Darryl Muhammad of Nation of lslam Mosque 93. The Macon mosque continues to stand ready to help in any way they can according to Muhammad. "No one will be able to sit on the sideline in this day. If we want to see a change then the community will have to stop waiting on others to fix our problems," said Muhammad. "We must solve our problems ourselves." Rev. Ike E. Mack of Unionville Baptist Church reminded the crowd before a benediction led by Rev. Jacob Parker of Ebenezer Baptist Church, that they are the key to turning things around. "We hope and pray that we can foster a climate of peace, love and care" Mack said. "The church has been called, challenged and commissioned to function and facilitate in our community."